Robert Eisenstadt's
Antique Gambling Chips & Gambling Memorabilia Web Site
GREATEST CHIP CAROUSEL -- 500 CHIP CAPACITY
This carousel has so many great aspects it is hard to know where to begin. Excellent condition (only the light throws off the chip colors, particularly of the whites). Here goes:
Note that there is a separate inner circle of 6 columns/stacks of chips, and 14 outer columns/stack of chips. To remove chips from the inner circle, you first must remove a stack of chips from the outer circle and then reach through to the inner stacks!
There is a professionally carved/original "W.I.E." in the wood (you can see it in the first picture at the 11:00 position), and all 500 chips (100 red, white, blue, yellow and black) have a stylized "W.I.E". inlaid monogram!
There are 14 hand carved, painted Chinese junks (sailing vessels).
Metal dragon design handle.
Dragon designs carved in the wood base (seen in third picture; excuse the dust).
I just noticed that carved into the center of the top are some leaves and two Chinese mah jong (?) chips (?) (round with square hole in center of each; I guess those "chips" were used by the Chinese for gambling).
I assume the rack was made in the U.S. The chips certainly must have been made in the U.S. as they look like typical U.S. Playing Card Co. work.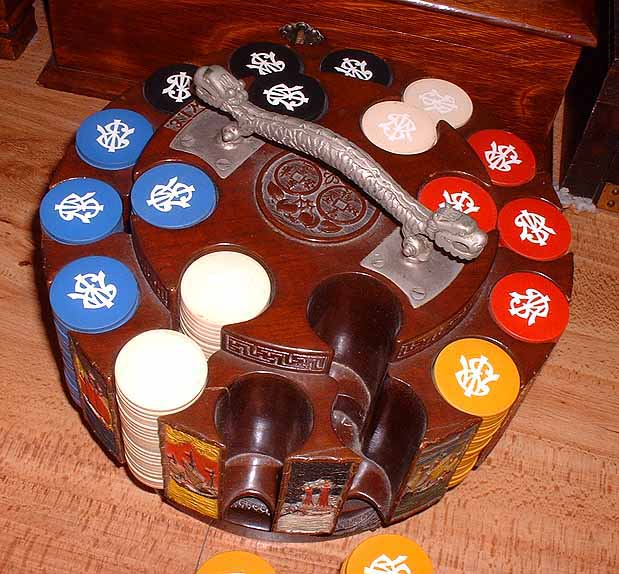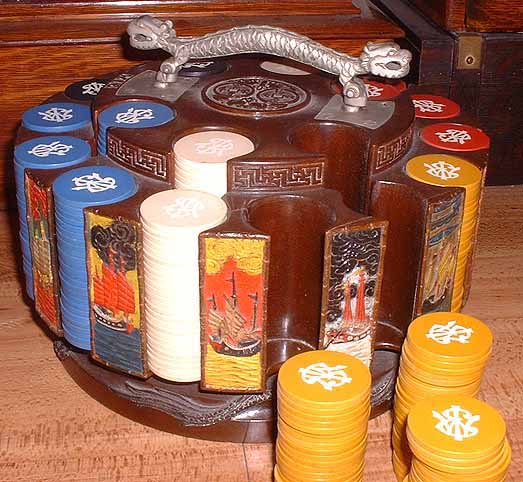 Below is a somewhat similar, modern carousel.
It has two tiers. I got it on eBay, August 2009. I see that
Marion and Co.
is selling it for $39. It is made of plastic, but seems quite strong. The typical large carousel wastes a lot of space in the center. This one cleverly has 8 columns in the center and 16 columns around the edge. (24 columns x 25 chips per column = 600 chips.) It has a handle, and can easily be carried in either the down (flat) or up (raised) position. The first picture shows the rack in the down position. (The picture was taken of the rack wrapped in plastic and Styrofoam packaging.) To put it in the up position (second picture), you simply use the handle to twist the center part, then raise the center part, and then twist it back so it will stay in the raised position. There is a separate base that lets it revolve very easily. In fact, give it a little twist and it will spin around like a roulette wheel. Made in China.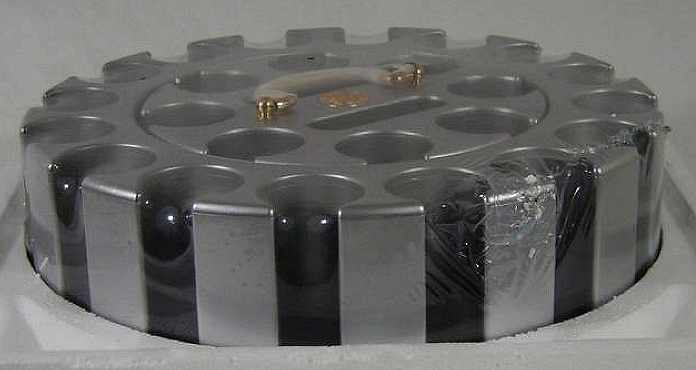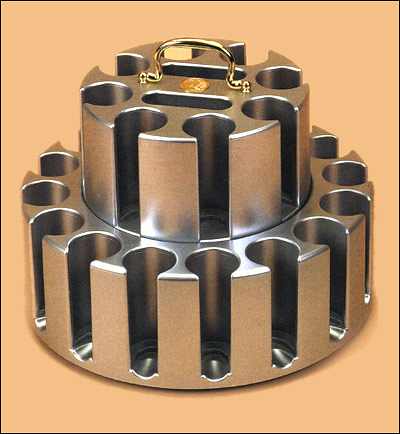 Home Page: ordering info.,policies (satisfaction guaranteed, etc.), e-mail, etc.
Site Map