Home Page: ordering info.,policies (satisfaction guaranteed, etc.), e-mail, etc.
Site Map
Robert Eisenstadt's
Antique Gambling Chips & Gambling Memorabilia Web Site
ATLAS TACK CORPORATION ADVERTISING RACK
Atlas Tack Corp. was founded in 1810. I was told by the seller of this rack that a partner of John D. Rockefeller took a paternalistic financial interest in the company for sentimental reasons -- it was located in his New England hometown. This great old cast metal rack is made in Victorian Beaux Arts style. Note the elaborate feet to it. Most impressive, of course, is is the company logo atop the rack -- a tack going through a globe of the earth, along with the "ATLAS" name. That logo appears on the 1940 tack box pictured below. One unusual thing about the rack is that it holds 1" (exactly) chips. I have often seen 7/8" chips, and 1-1/4" and 1/3/8" chips and racks, but I can not recall ever seeing 1" chips. The chips are metal, just what you would expect from a metal tack company. The rack is 12" high, and it revolves like a carousel. It is quite heavy with all that metal. It holds about 500 chips! Ten columns and about 50 chips (they are quite thin) per column!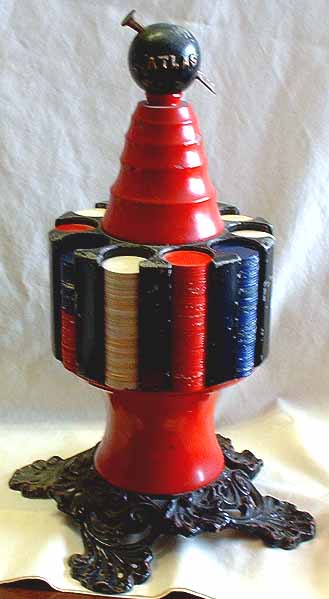 12" tall. Cast metal. 1" plain --red, white and blue-- metal chips. Revolves like a carousel.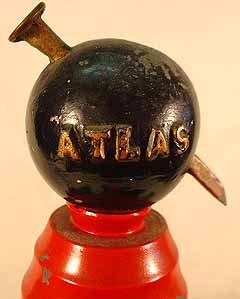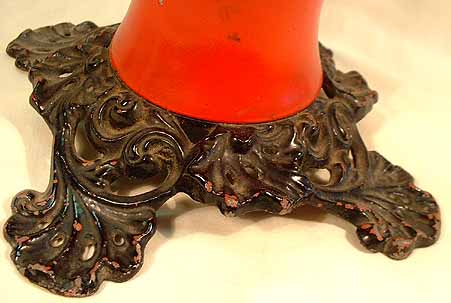 Beaux Arts Victorian style, especially the gaudy feet --

classical form, symmetry, rich ornamentation, and a grand scale.
Tack box says, "Copyright 1940, Atlas Tack Corporation, Fairhaven, Mass.; Henderson, KY, established 1810......". ...... . The chip box (1-1/4" plain metal chips) says, in part, Atlas Tack Co, Fairhaven MA."
Home Page: ordering info.,policies (satisfaction guaranteed, etc.), e-mail, etc.
Site Map