Robert Eisenstadt's
Antique Gambling Chips & Gambling Memorabilia Web Site
Home Page: ordering info.,policies (satisfaction guaranteed, etc.), e-mail, etc.
Site Map

I COLLECT MOVIE LOBBY CARDS (11 X 14 INCHES) WITH GAMBLING THEMES -- HERE ARE 21 OF MY BETTER ONES -- NONE FOR SALE
(Click here for my second web page of lobby cards )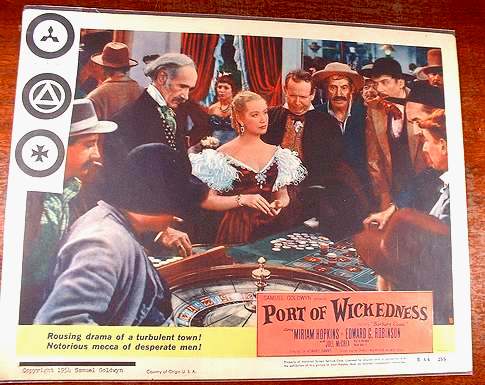 This is a typical lobby card of the type I collect. I only collect those where gambling or playing cards are the focus of the scene, not just background. For example, I am losing interest in L.C.'s of Westerns where some cowboys could be arguing in a saloon, and there is just some poker playing at near-by tables. I particularly like those LC's where the gambling chips can be identified. In this card I could ID three different coded inlaid generic poker/roulette chips on the roulette table. They are shown in the upper left of the card, photocopies from Dale Seymour's "Antique Gambling Chips" book. I only collect LC's with gambling scenes; it isn't enough that the title or movie be gambling-related -- there must be a gambling or playing cards scene. I have some 800 of them and am still looking for more. (There is a glare from the lighting on the plastic sleeves I keep the LC's in to protect them. Sorry about that.)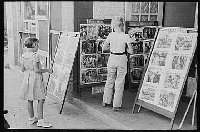 From about the 1920's to the 1960's practically all the films produced in the U.S. had lobby cards to advertise them. In the 1970's and 80's, the studios slowly quit making them for U.S. distribution. Today they are mainly used abroad. In their heyday, lobby cards were usually issued in sets of eight, 11"x 14," on a fairly heavy stock of paper. Full color LC's began about 1925 (note also that many black&white films had colorized lobby cards). Most of the studios used the National Screen Service Corp. to distribute the cards and films to the theaters. Each film would be given a NSS number (ID code). In the "Port of Wickedness" LC, above, the number (usually in the lower right corner) is R54\255. "R" means re-release (the films was originally released as "Barbary Coast" in 1935), "54" is the year of re-release, and "255" means this was the 255th movie released or re-released in 1954...... ....... ....Lobby cards were displayed in the theaters, either on a board (as shown above) or scattered throughout the theater lobby in separate framed windows. The above picture is taken from this fine site which contains much movie lobby card, poster, etc. information -- LearnAboutMoviePosters.com ...... ........ ......... As with gambling chips, most lobby cards are worthless or worth a dollar or two, and others are worth thousands of dollars!



From FilmPosters.com

: "Lobby Cards are no longer used in U.S. theaters and are rarely produced for today's films. These small movie posters (usually 11"x14" in a landscape, or horizontal format, printed on card stock) were generally produced in sets of eight, although the number of cards in a set can vary from as few as four to as many as 16. …. As the name suggests, these small movie posters were designed for display in a theater's lobby or foyer with the intention of luring patrons into the theater by showing glimpses of key scenes from the movie. A lobby card set typically consists of one Title Card (TC), a lobby card of special design usually depicting all key stars, listing credits and designed to represent the entire film rather than a single scene, and seven Scene Cards (SC), each depicting a different scene from the movie. .. …. Lobby Cards made their first appearance in the early 1910s around the same time that Charlie Chaplin was breaking into motion pictures. The earliest Silent-era lobby cards were often nothing more than black and white or duotone stills. These were eventually replaced by hand-tinted scenes, and by the 1920s most studios were producing full-color lobby cards. … …The collectibility value of lobby cards is influenced by several factors, the most important of which is the graphic appeal of the card itself. A lobby card featuring a closeup of the main actors, or the monster, or depicting a key scene, is much more desirable than a card showing only a distant shot of the stars, or a "dead" card featuring no stars at all. The importance or popularity of the film is another key factor in determining a lobby card's value."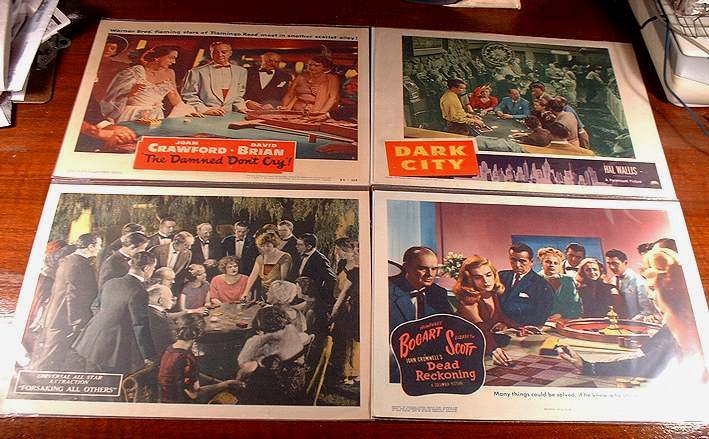 Starting at the upper left and going clockwise:
¶ Joan Crawford and David Brian playing roulette in "The Damned Don't Cry" (1950).
¶ Charlton Heston dealing blackjack in "Dark City" (1950). Nice scene: banks of slot machines, wheel of fortune and craps table in background.
¶ Humphrey Bogart and Lizabeth Scott playing roulette in "Dead Reckoning" (1947).
¶ Playing 'put 'n take' in "Forsaking All Others" (1922). There are two put and take tops on the table. The woman standing is about to spin one; I can read "PUT 3" on one side of that top! This is my only LC with a put and take top in it. Click here for a close-up of those put and takes.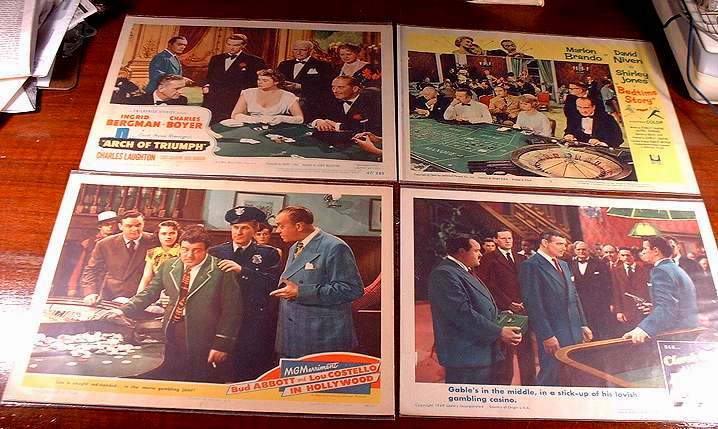 Clockwise from upper left:
¶ Ingrid Bergman, and Charles Boyer (standing, left), at baccarat table in "Arch of Triumph" (1947).
¶ David Niven (white suit, elbow on table), Marlon Brando (tan military suit, holding chip) and Shirley Jones at roulette table in "Bedtime Story" (1964).
¶ Clark Gable near craps table in "Any Number Can Play" (1949). Good gambling movie -- lots of shots of gambling equipment and chatter about gambling philosophy and gamblers. Great cast. William Conrad, Wendell Corey and Frank Morgan also seen in this LC.
¶ Lou Costello and Bud Abbott at roulette table in "Abbott and Costello in Hollywood" (1945).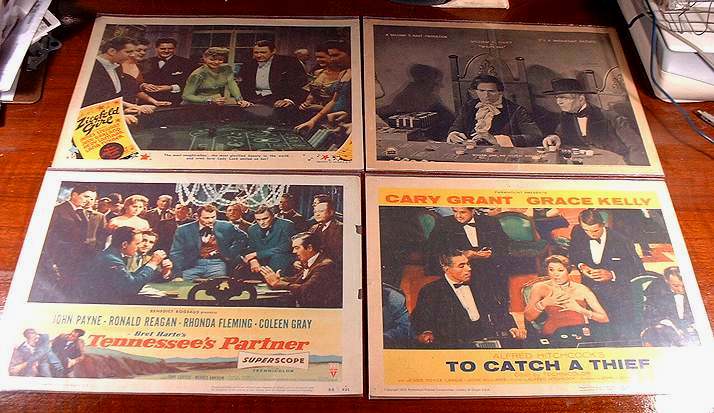 Clockwise from upper left:
¶ Lana Turner is ready to throw dice in "Ziegfeld Girl" (1941).
¶ William S. Hart dealing faro in "White Oak" (1921).
¶ Cary Grant standing (at right) at bacccarat table in "To Catch a Thief" (1955).
¶ Ronald Reagan (standing at left) watching poker game in "Tennessee's Partner" (1955). Rhonda Fleming is near Reagan; John Payne is seated, at right.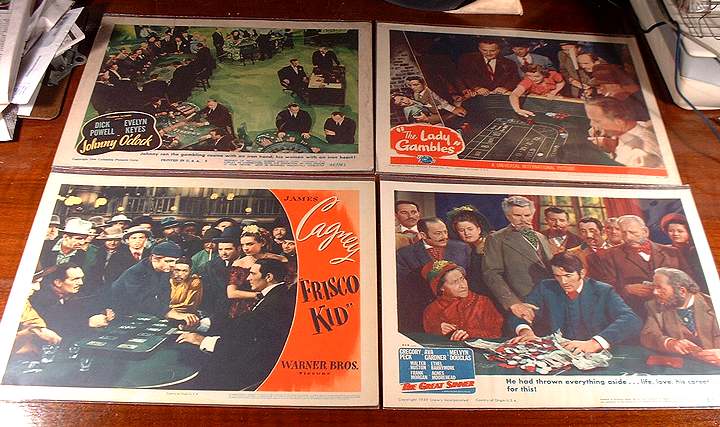 Clockwise from upper left:
¶ Dick Powell (seated at desk, center right) in "Johnny O'clock" (1946). Great scene of casino floor. From the lower right and going clockwise are these tables: roulette, hazard, craps and black jack.
¶ Barbara Stanwyck throwing dice in "The Lady Gambles" (1949).
¶ Gregory Peck rakes in a baccarat pot in "The Great Sinner" (1949).
¶ James Cagney at Faro table in "Frisco Kid" (1935).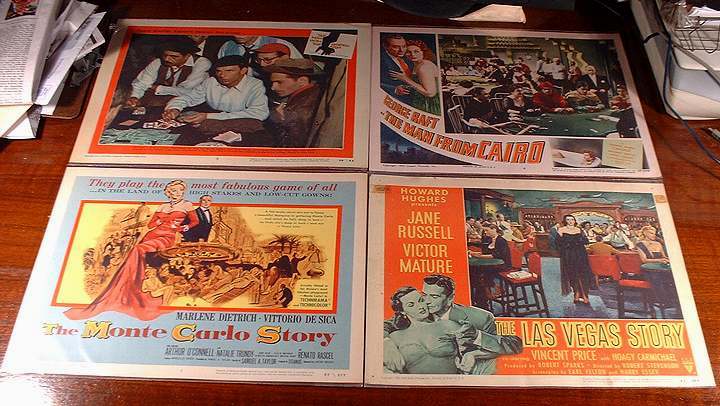 Clockwise from upper left:
¶ Frank Sinatra dealing poker in "The Man With The Golden Arm" (1956).
¶ George Raft (at left holding gun and girl; and at right standing near baccarat table) in "The Man From Cairo" (1953).
¶ Jane Russell (in casino) and Victor Mature in "The Las Vegas Story" (1952).
¶ Marlene Dietrich in "The Monte Carlo Story" (1957).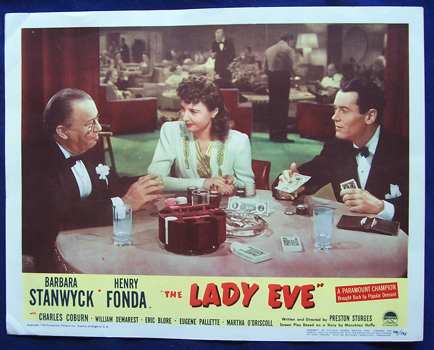 "The Lady Eve" (1941) -- great card, even if a 1949 re-release lobby card. Poker chips, chip carousel, playing cards. Returning from a year up the Amazon studying snakes, the rich but unsophisticated Charles Pike (Fonda) meets con-artist Jean Harrington (Stanwyck) on a ship. Here Fonda is performing card magic tricks, and con-artists Stanwyck and Coburn act askance and amazed. They fall in love, but a misunderstanding causes them to split on bad terms. To get back at him, Jean disguises herself as an English lady, and comes back to tease and torment him.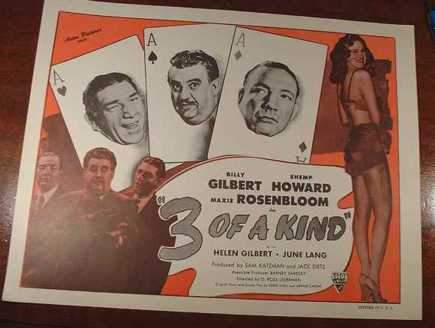 "3 of a Kind" (1944) -- This is a re-release lobby card. Shemp Howard is one of the Three Stooges.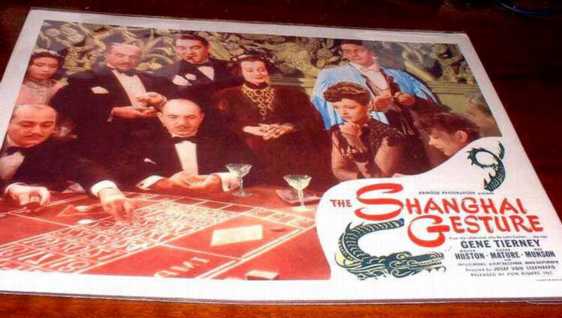 "The Shanghai Gesture" (1941). The card is undated, but is from the circa 1949 re-release. The re-release lobby cards had "Shanghai Gesture" in red. The original lobby cards from the original release had those words in blue (see the card below). Stars Gene Tierney, Victor Mature (both shown here) and Walter Huston. Great movie, a lot of gambling and sin.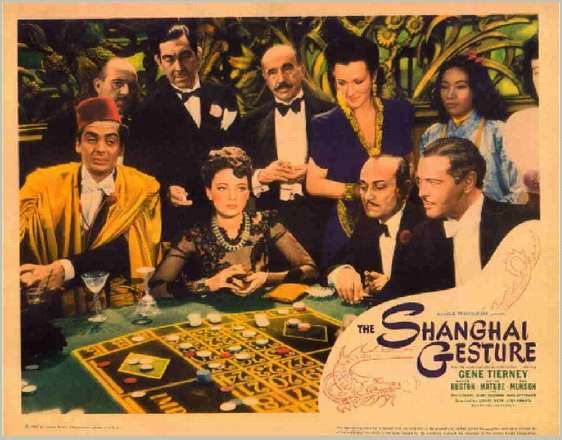 "The Shanghai Gesture" (1941). This card (not mine) is a reproduction of a card from the original release of the movie (see above).

CLICK HERE TO VIEW THE NEXT LOBBY CARD PAGE

Home Page: ordering info.,policies (satisfaction guaranteed, etc.), e-mail, etc.
Site Map

© 2010 by Robert Eisenstadt
all rights reserved