ANTE UP: The Collection of Robert Eisenstadt

We welcome you to take part in Ante Up, the auction of the Robert Eisenstadt's incredible collection. The auction takes place on January 30, 2021 at 10:00AM CT. You can visit the auction website by clicking here.

You can also view the collection that is up for auction as a PDF.

If you have any questions about the auction, please contact Joseph Slabaugh (joeslabaugh@potterauctions.com, 773-472-1442) at Potter & Potter Auctions.
IN MEMORIAM: Robert Eisenstadt 1942 - 2020

On June 5, 2020, Robert Eisenstadt died peacefully at home, in the loving presence of his sister Nancy and his sister's family. He will be dearly missed by all of us who loved and appreciated him. If you would like to leave a story about Robert, write a message, or read what others have written, please click here.

He took pride in his collection and loved sharing it with fellow enthusiasts; please have a look and enjoy.
Robert Eisenstadt's
Antique Gambling Chips & Gambling Memorabilia Web Site
9 COOLIDGE PRINTS OF DOGS PLAYING POKER
Brown and Bigelow hired Norman Rockwell, Maxfield Parrish, Cassius Marcellus ("C.M.") Coolidge and others to paint pictures for their calendars. Coolidge (1845 - 1934) became famous for his humerous poker-playing dog prints, nine in all. He painted 16 dogs-as-humans pictures in all for B&B, starting in 1906. Nine, as noted, are of dogs-playing-poker, and another seven were of dogs acting as humans, but not in poker-playing scenes. His hometown was Philadelphia NY (90 miles north of Syracuse). He moved to various places including Bay Ridge, Brooklyn. He died living in Staten Island NY.

The print at the lower right is not seen very often. It is called "Stranger in Camp" (referring to the dog on the right); that print is also known as "Topped Again". It is the only one that is situated outdooors. The dog on right is holding a hand of 4 aces, but he loses the pot to the dog on the left, who holds a straight flush.

The print in the center is titled, "A Bold Bluff." The other eight, going clockwise from the upper left, are: A Friend In Need, A Waterloo, Pinched With Four Aces, His Station And Four Aces, A Stranger In Camp, Sitting Up With A Sick Friend, Post Mortem, and Poker Sympathy.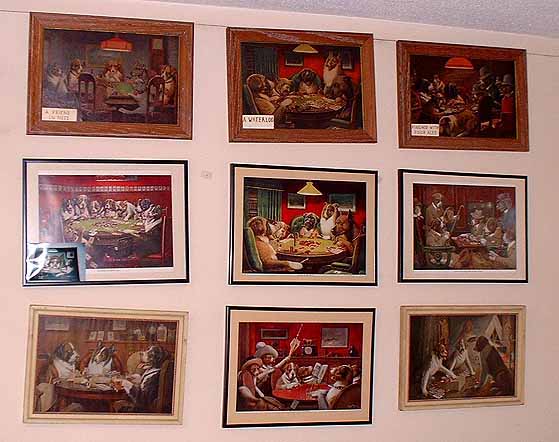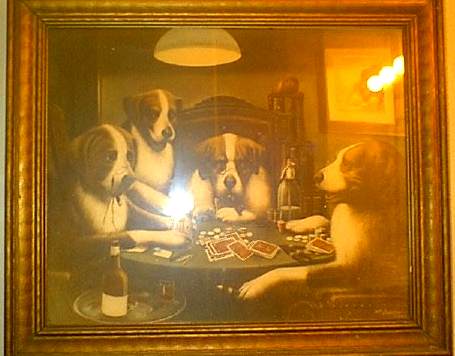 This is a rare and odd one of his dogs-playing-poker prints. I don't know if it is included in the 16 Brown & Bigelow series of prints referred to above, likely it preceded them. It is unlike the others in that there is no humerous nature to it, and it advertises a product: "Old Saratoga Whiskey" is on the label of the bottle. It is called, I am told, "A Pat Hand," copyright 1895 by Coolidge. Someone was kind enough to mail me a photo of it. The picture, above, is from the internet....
Back to list/links of Additional Favorite Racks of Mine.
Home Page: ordering info.,policies (satisfaction guaranteed, etc.), e-mail, etc.
Site Map