ANTE UP: The Collection of Robert Eisenstadt

We welcome you to take part in Ante Up, the auction of the Robert Eisenstadt's incredible collection. The auction takes place on January 30, 2021 at 10:00AM CT. You can visit the auction website by clicking here.

You can also view the collection that is up for auction as a PDF.

If you have any questions about the auction, please contact Joseph Slabaugh (joeslabaugh@potterauctions.com, 773-472-1442) at Potter & Potter Auctions.
IN MEMORIAM: Robert Eisenstadt 1942 - 2020

On June 5, 2020, Robert Eisenstadt died peacefully at home, in the loving presence of his sister Nancy and his sister's family. He will be dearly missed by all of us who loved and appreciated him. If you would like to leave a story about Robert, write a message, or read what others have written, please click here.

He took pride in his collection and loved sharing it with fellow enthusiasts; please have a look and enjoy.
Robert Eisenstadt's
Antique Gambling Chips & Gambling Memorabilia Web Site
Home Page: ordering info.,policies (satisfaction guaranteed, etc.), e-mail, etc.
Site Map

SHEET MUSIC COVERS, MOST OF WHICH I DON'T OWN
(I regret the racial stereotypes on some of the covers on this and the prior page, but they are about 100 years old)
Note: I collect and buy Sheet Music with gambling and playing card images.
I can email or snail mail you a list of the approximately 90 pieces I own,
thus letting you know what I need.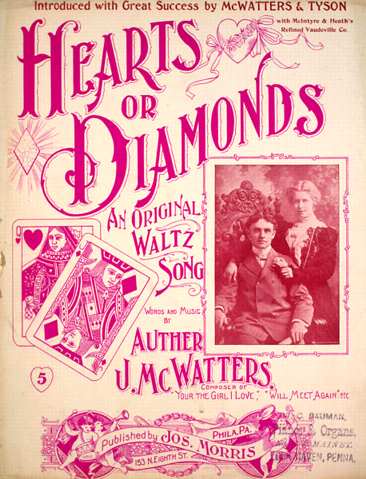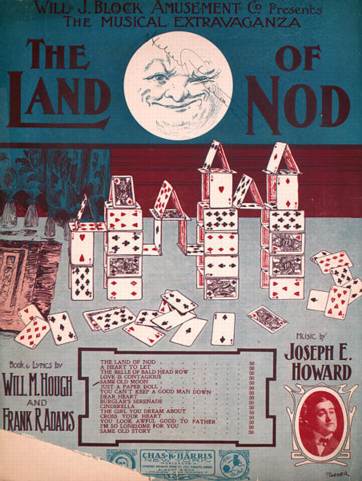 1905 -- Actually, I own this one now.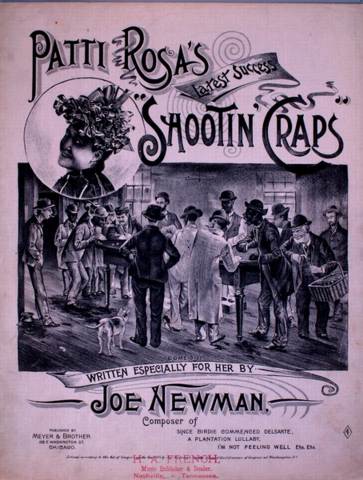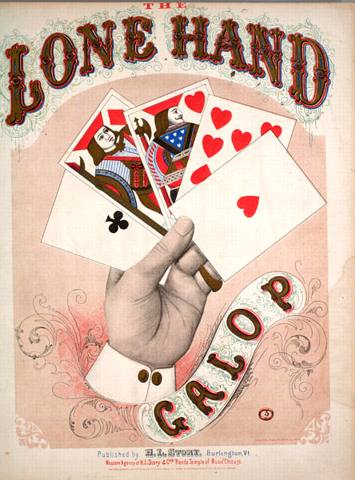 1869 -- Actually, I just acquired this in April 2006. Same graphics, but my copy is Published by Edward M. Read, Burlington, Vt.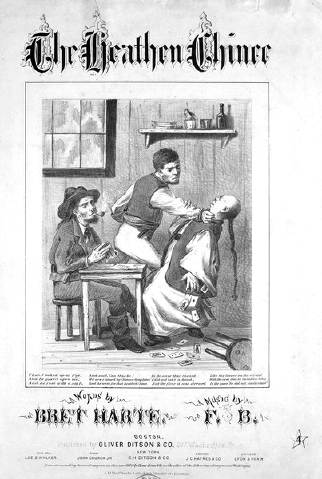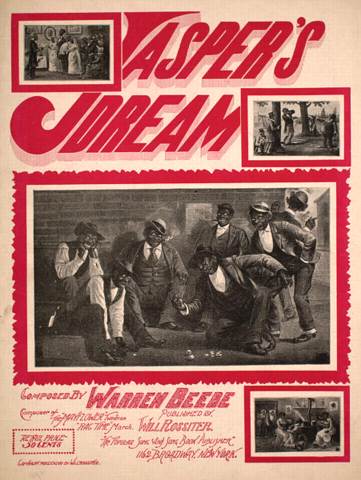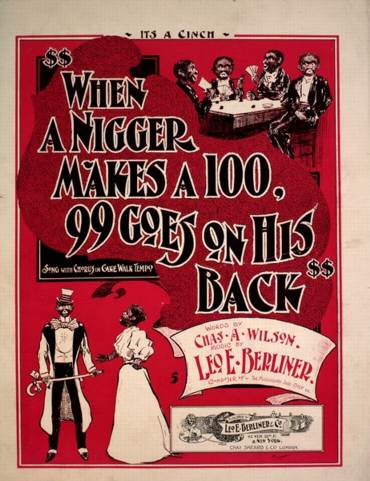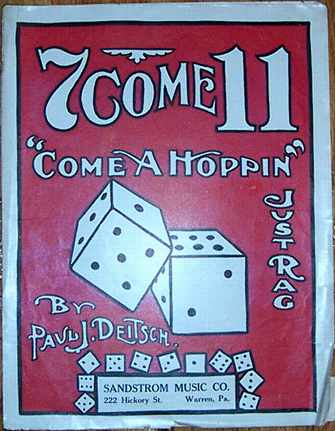 7 COME 11 "COME A HOPPIN" JUST RAG sheet music. Composed by Paul J. Deitsch.
Copyright 1912. Published by Sandstrom Music Co. of Warren, Pennsylvania.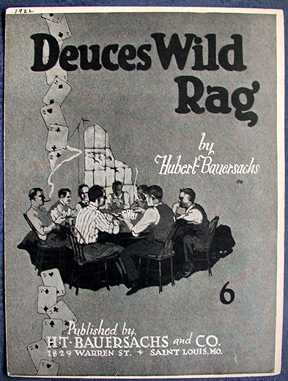 "Deuces Wild Rag" 1922 (Published In St.Louis,MO) Instrumental By Hurbert Bauersachs. I own it.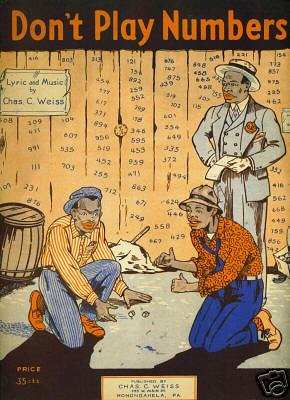 DON'T PLAY NUMBERS, Black illustrated sheet music by Chas Weiss, copyright MCMXXXVI (1936) -- I do own this one.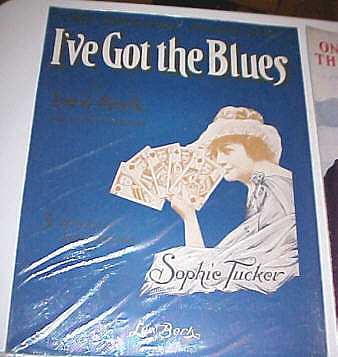 Original Song Hit! "I've got the Blues" by Lew Berk -- copyright 1916. I own it.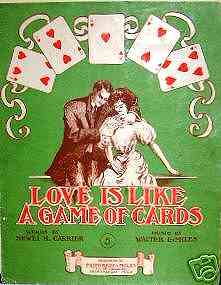 Scarce - Playing Card Design Sheet Music - 1909. I don't own this. In August 2006, I came in second in eBay auction. Went for $44.00.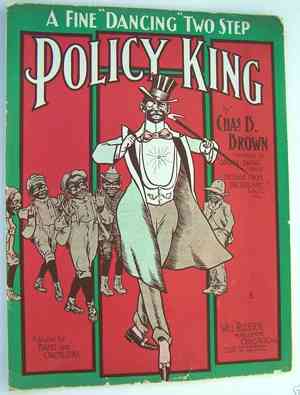 1905 sheet music -- went for $154 on eBay in February 2007. Not mine... ...... .... From Wikipedia: The Numbers Game or Policy Racket is an illegal lottery played mostly in poor neighborhoods in U.S. cities, wherein the bettor attempts to pick three or four digits to match those that will be randomly drawn the following day. The gambler places his or her bet with a bookie at a tavern, or other semi-private place that acts as a betting parlor. A runner carries the money and betting slips between the betting parlors and the headquarters, called a "numbers bank" or "policy bank". The name "policy" is from a similarity to cheap insurance, both seen as a gamble on the future.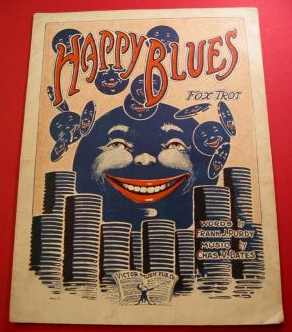 This is another one I bid on, came in second. It went for $110 on eBay, October 2007. Happy Blues; Words by Frank J. Purdy; Music by Chas. V. Bates; Victor Music Pub. Co., 1923; Song is about Rufus Rastus Johnson Jones winning the high-priced blue poker chips (the reds and whites are just tip change). Fun lyrics.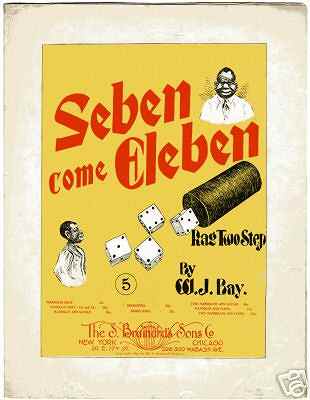 Wow! Went for $371 on ebay in March 2009. I bid about $50. Seben Come Eleben, 1899 (W.J. Bay) 2/4 rag/2-step piano solo, large format, published by S. Brainard's Sons, NYC. Four dice tumble out of a dice cup.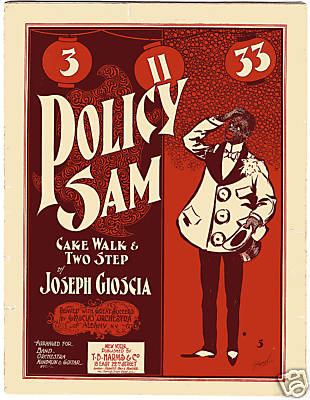 Policy Sam, 1899 (Joseph Gioscia) 2/4 cake walk/2-step piano solo, large format, published by Harms, NYC. Starmer did this great cover, Sam is considering the numbers 3, 11, 33 for his bet. I paid $35 for this -- eBay, Jan 2009.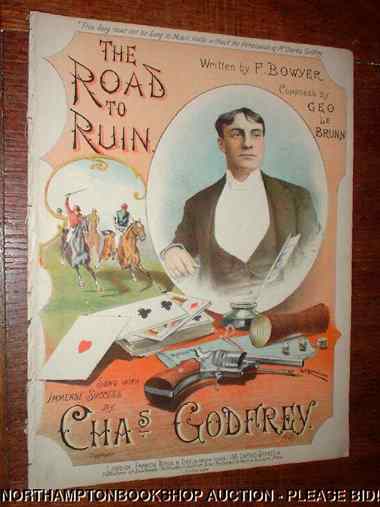 1890s VICTORIAN SHEET MUSIC THE ROAD TO RUIN, CHAS GODFREY, F BOWYER, GEO le BRUNN, LITH = HG BANKS, complete/music ... ... .... This went for about $100 on eBay, May 2009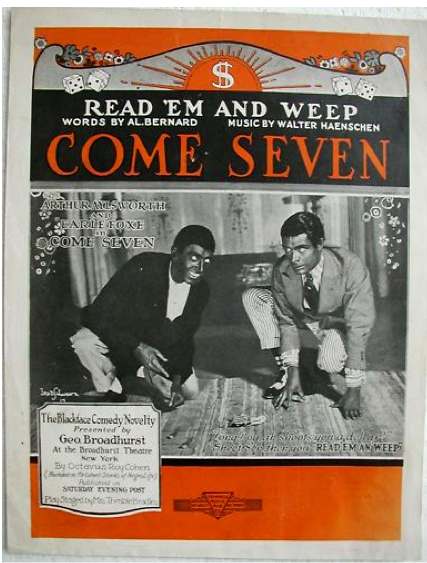 "This is an original 1920 piece of sheet music entitled "Read 'Em And Weep" with a Black Face Black Americana dice game gambling cover photo from the Broadhurst theatre play "Come Seven".It measures 9 and 1/2 inches by 12 inches,has 4 pages including the covers and has a 3 inch crease in the top right corner,a small tear on the top edge,and a faint stain and music store stamp in the bottom right corner.The music is by Walter Haenschen,the words by Al.Bernard and publication by the Triangle Music Co of New York.," per eBay seller.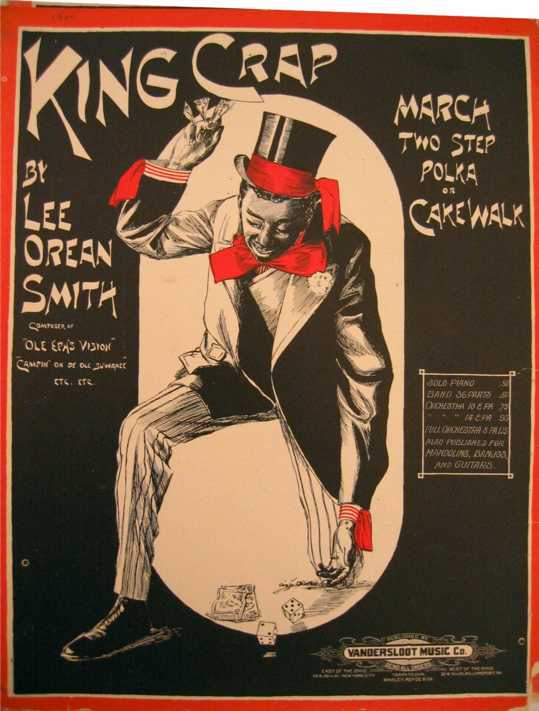 King Crap by Lee Orean Smith. Not mine.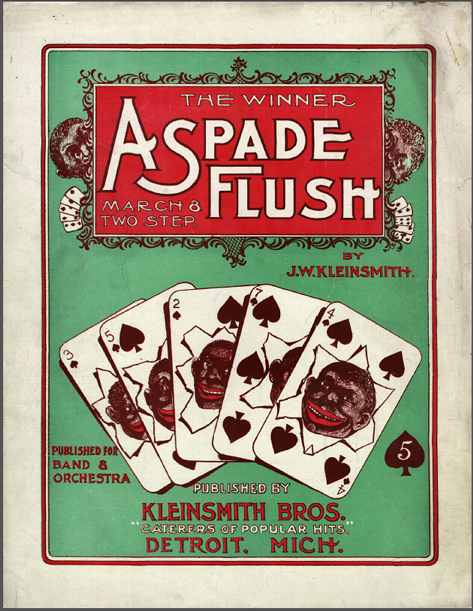 The Winner A Spade Flush, 1902 (J.W. Kleinsmith) 2/4 march/2-step piano solo, large format, published by Kleinsmith Brothers, Detroit, MI. ... Condition is near excellent. $246.05.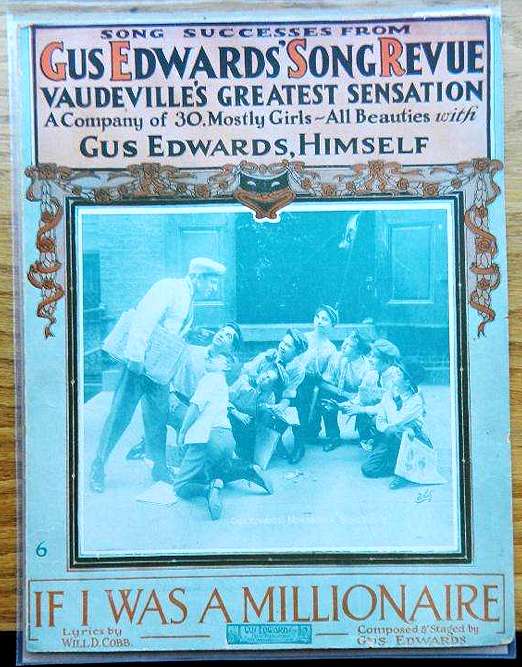 1910 sheet music. Born Walter Weinschel in New York City, Walter Winchel, who became the famous newspaper gossip columnist,
left school in the sixth grade and started performing in Gus Edwards's vaudeville troupe known as ''Newsboys Sextet''.
Here is a scene from the show: newsboys shooting dice.


Peter Persoff sent me this great image in December 2012.
The image is from the online Digital Library, Kansas City Sheet Music Collection
of the University of Missouri Library Systems. Link here.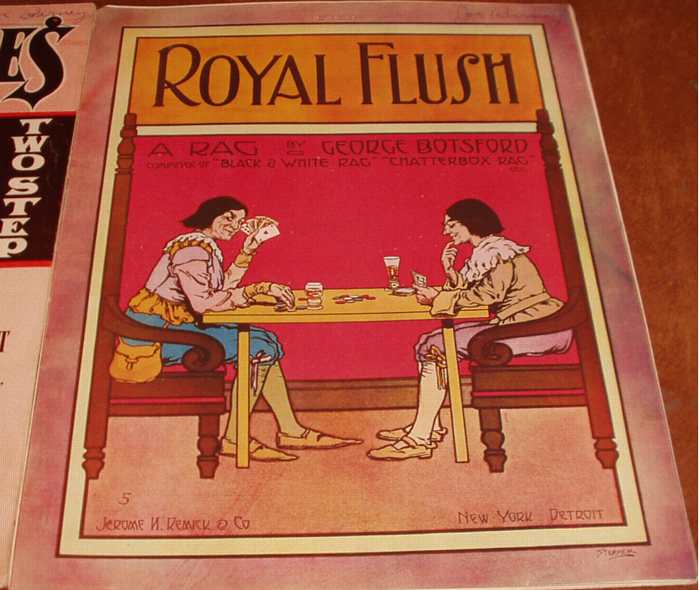 'Royal Flush'. A rag by George Botsford. Copyright 1911.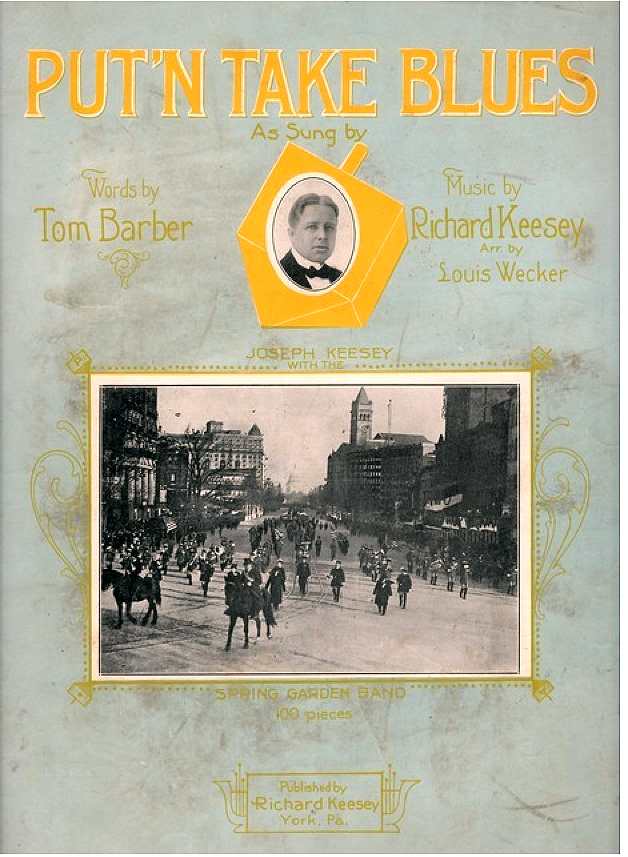 PUT'N TAKE BLUES BARBER KEESEY RARE ANTIQUE 1920 SHEET MUSIC

Home Page: ordering info.,policies (satisfaction guaranteed, etc.), e-mail, etc.
Site Map