ANTE UP: The Collection of Robert Eisenstadt

We welcome you to take part in Ante Up, the auction of the Robert Eisenstadt's incredible collection. The auction takes place on January 30, 2021 at 10:00AM CT. You can visit the auction website by clicking here.

You can also view the collection that is up for auction as a PDF.

If you have any questions about the auction, please contact Joseph Slabaugh (joeslabaugh@potterauctions.com, 773-472-1442) at Potter & Potter Auctions.
IN MEMORIAM: Robert Eisenstadt 1942 - 2020

On June 5, 2020, Robert Eisenstadt died peacefully at home, in the loving presence of his sister Nancy and his sister's family. He will be dearly missed by all of us who loved and appreciated him. If you would like to leave a story about Robert, write a message, or read what others have written, please click here.

He took pride in his collection and loved sharing it with fellow enthusiasts; please have a look and enjoy.
Robert Eisenstadt's
Antique Gambling Chips & Gambling Memorabilia Web Site
Home Page: ordering info., policies, e-mail, etc.
Site Map
NEW MOTHER-OF-PEARL DISCOVERY -- SELLING SETS OF 4 AND 3 CHIPS, AND SINGLE CHIPS --
EXCELLENT, SHIMMERING CONDITION -- 10 PICTURES BELOW, AND LINKS TO 2 OTHER PICTURES --
FOUND IN NEW ORLEANS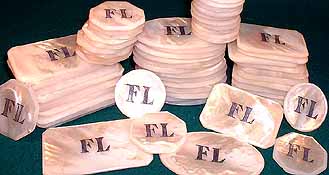 We are selling MOP sets of 5, 4 and 3 chips, and single chips, as detailed below. Buy with confidence: the prices include postage/insurance, and you may return them for any reason for a full refund. We know of no other "FL" chips other than these 156.


Why should you buy these chips? What is so special about them? These, I believe, are their strengths:
large size -- 2-5/8" is quite a big size, not often seen. Three of the five pieces are over 2 inches!
completeness and many different pieces -- How many sets do you have with 5 or more different pieces? Five is quite a lot................ And we know it is complete because of the five compartments to the original monogrammed case (pictured below). Incidentally, those three long compartments are the same length but are different widths, indicating the three smaller pieces.
excellent condition -- chips are near mint. Must have been hardly used, if at all. No scratches.
good sparkle and color -- the color of the light captured is there, but does not show too well in the photos below.

The specifications for the entire set as bought; much have been sold since:
10 -- large rectangle -- 2-5/8" wide x 1-5/8" high
14 -- oval -- 2-5/8"w x 1-5/8"h
41 -- smaller rectangle -- 2-1/8"w x 1-1/2"h
59 -- hexagon -- 1-1/2" x 1-1/2"
32 -- round -- 1-3/8" diameter
156 chips, total -- all engraved on one side, and all in excellent, shimmering, resplendent condition. Not one of them has as much as a scratch. All 156 chips are the same generous thickness -- a mite over 1/8th inch. In the light they capture colors, like red, pink and green, although this does not show too well in the scans. Incidentally, the MOPs are a nice white/natural color basically; they have NOT turned yellow/cream in places. Finally, the hand-engraved "FL'"s are colored with dark blue paint/ink.
$275.00, postpaid/insured -- 5 MOP chips -- sorry, sold out of the large rectangle


Sorry, but I am sold-out of the large rectangle! $275.00 for a five-chip set. Excellent condition. Only ten sets were originally available because only 10 of the large rectangles are known to exist. Now three sets remain for sale. One of the noteworthy things about these chips is their large size. For comparison purposes, note that the 8-sided chip at the bottom left is 1-1/2", a typical poker chip size. (Note the short line coming off the top of the "L" in the small rectangle, pictured above, bottom center. The chip you purchase will not thave that line. Also note that the pearl chips are a shimmering white (natural) color as seen in those pictures here where the chips are stacked and spread about. I don't know why the camera sometimes makes them look dark, as in this picture and others here.)

$195.00, postpaid/insured -- 4 MOP chips -- only 4 sets for sale


$195.00 for a set of four. Excellent condition. (This set is the same as the 5-chip set, less the large rectangle chip.) This is my last set of four; the others were all sold!




$85.00, postpaid/insured -- 3 MOP chips


$85.00 for a set of three. Excellent condition. (Same as the 5-chip set, less the large rectangle and the oval chips.) 15 of these 3-chip sets are available....... Individually, we will sell the octagon MOP for $30, the smaller rectangle MOP (2-1/8" wide!) for $35, and the round MOP for $30.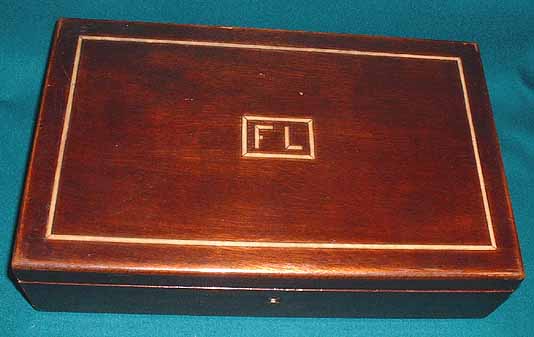 Note the inlay on the box top. it is flush with the wood surface. The inlay is very slick -- celluloid, ivory, wood? The box, surface, hinges, etc., and in very good condition.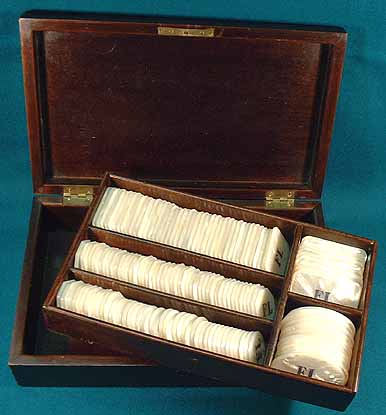 The wooden box is a very dark brown color, accurately shown in this picture. Note that the wood chip tray that holds the chips is removable..... ...... ...... I estimate that the original set consisted of 190 chips. All are the same thickness. The long columns would hold 50 chips each, with a little room to spare. The two wide sections on the right would each hold 20 chips, with a very little room to spare....... ........ ........
Click here for another view of all the chips inside the box!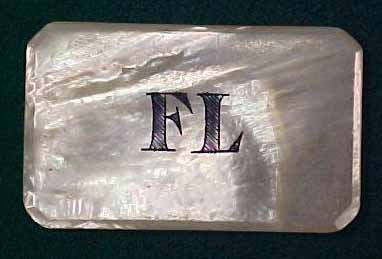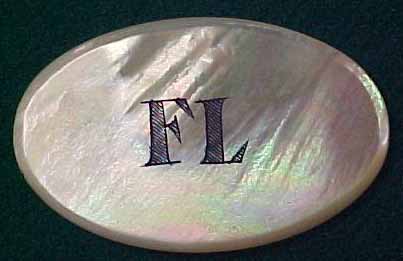 This picture is particularly good in showing how the pearl chip captures colors from the light.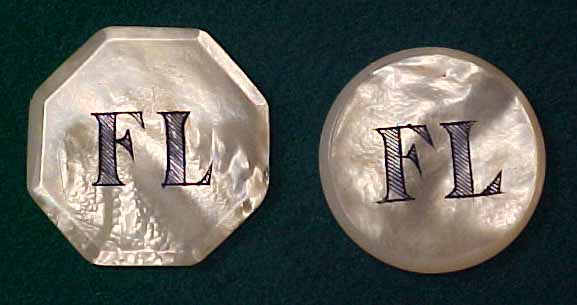 Home Page: ordering info., policies, e-mail, etc.
Site Map