Robert Eisenstadt's
Antique Gambling Chips & Gambling Memorabilia Web Site
Home Page: ordering info.,policies (satisfaction guaranteed, etc.), e-mail, etc.
Site Map
MY BEST IVORY CHIP -- THE STAR/PLANT ONE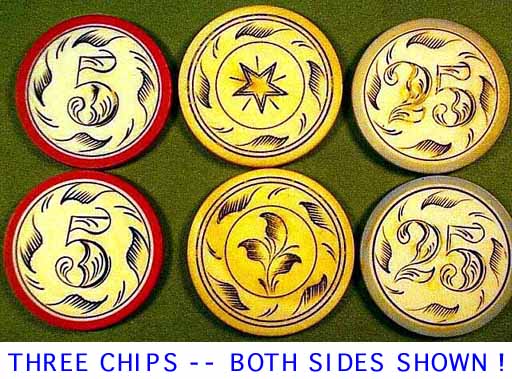 (INRB-Five; IELF-Three Leaves and Star; and IPAD-Twenty-Five -- all three listed in the 2002 "Supplement of Chip Codes" to Antique Gambling Chips.)
SOLD OUT OF THE "5" CHIP

There are three different chips: a "5", a "25" and a great new design chip with a star, circle, etc. on one side and a three-leaf plant, circle, etc ON THE OTHER SIDE!!!!
They are all from the same set; they all came to me together, in some quantity. I am the only one who has these to sell. Note the four two-twigs rim pattern on each, for
example, and the four leaves on the rim of each. The "5" is 2/3/2/2 (see p. 165 of new book). There is only
one 2/3/2/2 in the book; this is a second.......There is also only one
2/3/2/2 "25" in the book (p. 179); mine is a second one.............NO
BIG DEAL THOUGH. EVERYTIME SOMEONE FINDS NEW IVORIES, IT SEEMS TO BE A
NEW CODE..
The star/3-leaf one is sensational though. Other than monograms, I
don't know of ivories with different sides. And this is part of a
sizable set, so it is not an error or an experimental chip.

Here, below, are more recent pictures of the ivories, showing the reduced condition. Note that only one "5" is left, and it has a small nerve hole in the center.
The star leaf chip you will be getting will NOT have that nerve hole. The "25" shown is representative.



My price for these chips:
$175 for the star/3-leaf one, OK-used-fine condition ... I have in OK, but lesser condition for less money; happy to email you sans.
SOLD OUT OF THE "5" CHIP -- $45 for my last "5," OK-used-good condition, except than there is a small pin-size nerve hole in the center of the chip.
$65 for a "25" -- maybe a slight edge crack on the "25"; or there might be no edge crack but some paint missing from the engravings, or both "problems." Otherwise in decent condition. Cite your preference, or leave it to me to give you the most attractive chip.


postage additional.

you can return anything.
best wishes,
*********************************************************
Home Page: ordering info.,policies (satisfaction guaranteed, etc.), e-mail, etc.
Site Map