Robert Eisenstadt's
Antique Gambling Chips & Gambling Memorabilia Web Site
MY BEST CATALIN POKER CHIP RACK
(NOT FOR SALE); AND TIPS TO IDENTIFY CATALIN/BAKELITE
This is my best catalin poker chip rack. It is the only one I have ever seen. I made a page for it here just for the fun of it. It is a standard size carousel -- 8 columns, holds 200 1-1/2" chips. The handle, carousel body and chips are catalin. The pedestal seems to be regular black plastic, and --as you can see-- there is a stainless steel metal ring about the lower portion. The catalin chips have quite unusual colors. There is some dust on it in the first picture; then I cleaned it off for the other two.
IDENTIFYING CATALIN/BAKELITE: With the possible exception of these poker chips (which one happy customer said, "Yes, they are. They passed the hot water test by giving the famous bakelite smell but I did a simichrome test just to be absolutely sure. Definitely bake! I am so happy to have them!") , which I sell for $10 each, I don't know of any catalin/bakelite chips that have any fine incused/embossed features on them. For example, I don't know of any catalin/bakelite chips with interlocking rim rays. Furthermore, the only catalin/bakelite chips I know of that have any value are the (1) plain, thick (about 1/8" thick) 1-1/2" ones, (2) thin 1-1/8" ones, and (3) thin 7/8" ones -- all of which may or may not have marbleized swirls (but usually you see at least some swirls when a chip is held up to a bright light) and which can not be broken with your fingers. And if you do break the item (say with two pair of pliers [and protect your eyes as you break it]), it will have a slick plastic-like inside, not granular-like as with a clay chip. For more confusion on the subject, click here , and here .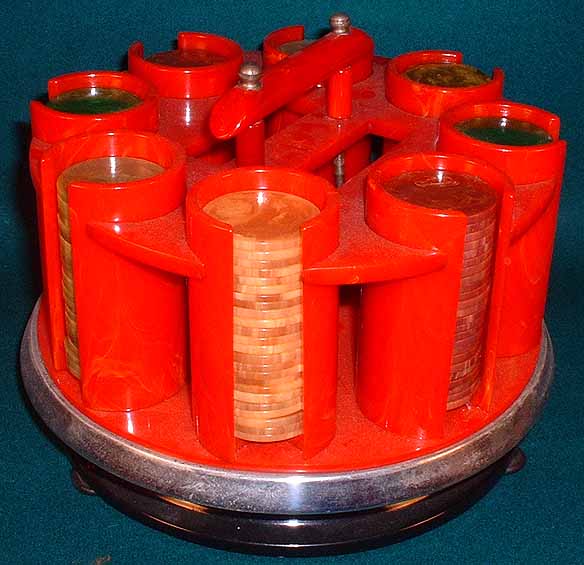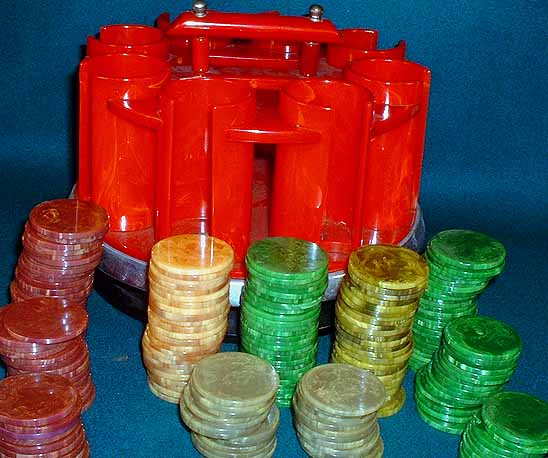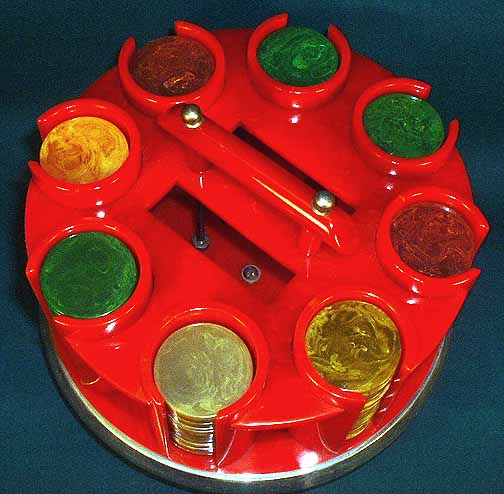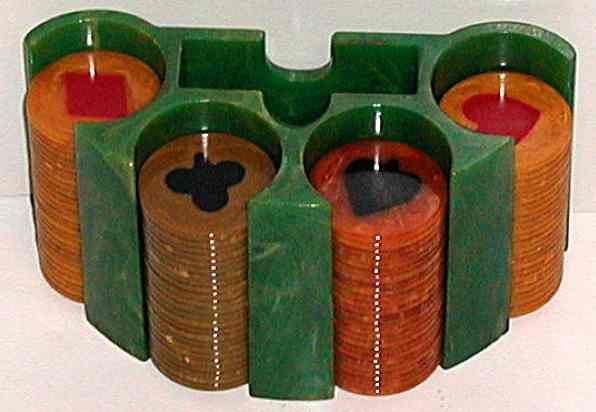 Unfortunately, I don't own the above set. In October 2009, on eBay, it was described as: "This is a beautiful and stunning Bakelite, Catalin poker chip set! The chips are inlaid with the four suits. There are 100 chips in the set, 25 hearts, 25 spades, 24 clubs, and 26 diamonds. The 4 tube caddy is the type with the card holder in the back. When I bought these they were the only set I've ever seen or known about. The recent Victorian Casino Auctions (Oct 10 - 11) sold a 198 chip set for $6500, without the buyers premium. That was only the second set I've seen. "

Home Page: ordering info.,policies (satisfaction guaranteed, etc.), e-mail, etc.
Site Map