Home Page: ordering info., policies, e-mail, etc.
Site Map
Robert Eisenstadt's
Antique Gambling Chips & Gambling Memorabilia Web Site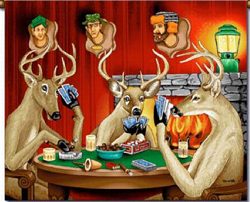 LIST OF LODGES WHERE I HAVE AT LEAST ONE CHIP--

SO I NEED FROM LODGES YOU DON'T SEE ON THE LIST!!!

REVERSE NEEDS LIST -- B.P.O.E. LODGE POKER CHIPS
THE CHIPS ON THIS PAGE ARE NOT FOR SALE --
THEY ARE JUST A LIST OF WHAT I ALREADY HAVE IN MY SINGLES COLLECTION;
THEREFORE, I NEED WHAT IS NOT ON THE LIST!


**** MY BPOE CHIP SALES LIST IS ON THIS PAGE ****

LODGE LOCATORS



(1) Official BPOE Lodge Locator: Clicking here will bring you to the official Elks Club web site "Lodge Locator." There, you can type in a lodge number, and receive the name and location of that lodge. You can also get the names and numbers of all the BPOE lodges in a particular state or district. One deficiency in the BPOE Lodge Locator is that it will only show current/active lodges.

(2) TAMS Journal Lodge Locator: Here is a list of all BPOE lodges that ever existed, as of 1991, in numerical order, per the October 1991 TAMS Journal: BPOE Lodges #1 thru #163, 164-399, 400-635, 636-871, 872-1106, 1107-1342, 1343-1578, 1579-1810, 1811-2039, 2040-2266, 2267-2493, 2494-2718, 2719-2762, notes: 18-904, notes: 918-2761. (If it is difficult to read a location name in a link-scan, email me [ chipe@ix.netcom.com ], and I'll tell you.)

THE FOLLOWING ARE BPOE LODGE NUMBERS WHICH I ALREADY HAVE SOME POKER CHIPS FROM (SO I NEED THE ONES NOT LISTED, AND WILL ACCEPT ANY POKER CHIP, EVEN PLASTIC CHIPS.). If the chip(s) I have are crest & seal or plastic, I indicate that next to the lodge number. If you just see the lodge number alone, my chip is hot-stamped clay:
3 -- C&S
5 -- C&S
6 -- C&S
17
22
24 -- small plastic chip
26 -- C&S
28 -- C&S
30 -- C&S
50
58 -- C&S
66
71 -- plastic; and C&S
79 -- C&S
84
86
89
90 -- plastic
92
95 -- die-cut inlaid EC chip made by USPC in 1921, per USPC records made for Vicksburg MS BPOE.
99 -- Crest and Seal (C&S)
103 -- C&S
124 -- C&S
142
143 -- plastic
154 - C&S
155 -- plastic
160
168
170
171 -- C&S
174
180
186
208
209
214 -- C&S
216 -- C&S
218 -- C&S
221 -- C&S
222
224 -- wood drink
225 -- small plastic, state convention
228 -- C&S
230
233 (mfg sample?)
235 -- C&S
236
243 -- C&S
251
252
255
263 - C&S
266 -- C&S
269
285 -- C&S
287 -- C&S
288
290 -- C&S
292
293 -- C&S
296 --plastic fundraising night
298 -- C&S
302 -- C
&S
303
308 -- C&S
309 -- C&S ..
310
311
313
316
317
318 -- C&S
319
322
326
331 -- C&S
335
336
337
338
342* -- *Prince Rupert, British Columbia, Canada, 1-3/8"
350 -- metal chips, also C&S
352
357
358
359 -- C&S
362
363 -- C&S
365
367
368
375 -- large 2-1/2" plastic
380 -- C&S
383 -- C&S
385
388
389 -- plastic
391
394 -- C&S
397
399
407 (mfg sample?)
411 -- slot-size token fr Wildwood, Alberta Canada (BPOE 411)
412
418 -- C&S
420
423
431 -- wooden drink token
438
439 -- C&S
444 -- C&S
449 -- C&S
457
461
463
465
476
479
486 -- small 10¢ good for in trade
492 --plastic
495
498 -- inlaid
501
507
508 -- C&S
517
520 -- C&S
522
537
546
548 -- plastic, and metal
557
559 -- C&S
560 -- C&S
563
566 -- C&S
569
570
575
576
582
583
584 -- C&S
586
592 -- small plastic good-for token
593
597
598
600 -- C&S
610
611
613
614
616
629 -- C&S
641 -- C&S (damage)
643
646
647-- small plastic drink token
649 -- C&S
651
652
660
671 -- C&S
672 -- C&S; hot-stamped too
674 -- C&S
682 -- overprint clay sm key chip
692
702 -- C&S
708
709
711
725
741 -- C&S
760
766 - plastic
781
776
786 -- C&S
804
806 -- embossed
808
810 -- C&S
819
823 -- C&S
825
832
833 -- C&S
850 -- plastic "20" chip
854
858 -- C&S
865
888
889
896
906
926
927 -- plasic
946
961
966
980 -- C&S
981 -- nice old plastic embossed
985
987
1001
1002
1008 -- C&S
1012
1028
1049
1054 -- C&S
1055 -- C&S
1067
1082
1083 --C&S
1091
1100 -- C&S
1102
1112
1115 -- aluminum, 1.5 inch, "good for one bottle beer"
1118
1127 -- plastic
1136
1139 -- C&S
1143
1146
1166 -- C&S
1167
1168
1170
1180
1181
1183 -- C&S
1186
1187
1189
1192
1198
1199
1201 -- C&S
1204
1206 -- C&S
1208
1214
1216
1226
1235 -- plastic
1240
1247
1248
1254
1258
1259 -- stamped paper chip
1262
1265 -- cheap plastic
1266 -- C&S
1270
1281 -- wood drink
1282
1283
1285
1267 -- nice old brass "service check"
1289 -- C&S, hot-stamped, too
1292
1298 -- C&S
1299 -- plastic; and metal 75th anniv.
1300
1315
1316
1319 -- C&S
1328
1330
1331
1336 -- on plain mold plain chip (hot-stamped)
1342 -- C&S
1344 -- C&S
1345 -- inlaid, hot-stamped
1347 -- C&S
1348
1351
1353 -- C&S, hot-stamped
1354 -- C&S
1355 -- but just address; no pict or "BPOE"
1363 -- C&S
1371 -- plastic
1374
1378
1384
1389
1395 -- C&S
1397
1413
1416 -- C&S
1419
1429 -- metal token, Centennial; still need poker chip
1430 -- C&S
1437
1440
1443
1448
1450 metal 'in trade' token
1468 - slot token; also clay chips
1471
1475
1482 -- C&S
1497 -- inlay w small crown mold; embossed plastic drink
1503 -- C&S
1507
1514
1515
1517 -- plastic
1528
1536
1539 -- C&S
1551 -- also metal convention
1554
1567
1573
1577
1584
1587
1589 -- plastic
1598
1604
1611
1613
1623
1626 -- C&S
1630
1631 (mfg sample?)
1643
1645 -- C&S (these are quite common)
1651
1653 -- C&S
1657
1662 -- plastic
1663
1680
1683 -- C&S
1690
1696
1704 --plastic drink
1730
1740
1745 -- C&S
1746 -- plastic
1747 -- C&S
1748
1760
1764
1767 -- plastic interlock poker chip "Well Drink".
1772
1777
1785
1787
1789
1791
1800 -- also metal
1805
1809
1812
1814
1816
1824
1826
1839
1845
1853
1858
1862
1864 -- bakelite, nice
1868
1873
1882
1886 -- inlaid; and hot-stamped
1889 -- 100th year wood token

1894
1898
1904
1907
1909
1912 -- plastic
1919
1920
1921 -- plastic
1905 -- plastic "good for"
1929
1934
1937
1942
1947
1948
1950
1952
1956
1961 -- wood "TUIT"
1968
1980 -- small plastic 25¢
1989
1991 -- plastic
1993
1996
1999
2011 -- also nice plastic drink
2013
2026 -- also plastic drink
2027
2032
2050
2051
2062
2068
2069 -- plastic
2088
2103
2105
2121
2145
2150
2162
2171
2190 -- good metal good for 1 drink
2191 -- plastic 5¢
2221 -- plastic 25¢
2240
2243
2263
2278
2325
2333
2338
2342
2346
2353- modern "inlay"
2364
2380 -- plastic drink token
2388
2408
2411
2431
2440
2441
2443
2468
2472
2487 -- wood drink
2509
2532 -- more like a token
2537 -- plstic
2540
2543
2561
2590
2637
2669 --plastic "premium"
2698 -- plastic good for 1 drink; and first anniv.
2802 -- plastic

have 340 lodges listed here 3/30/11.
have 397 lodges listed July 2014.
have 441 lodges listed July 2015.
have 456 lodges listed April 2016
have 466 lodges listed Oct 2016

Home Page: ordering info., policies, e-mail, etc.
Site Map

© 2011 by Robert Eisenstadt
all rights reserved