ANTE UP: The Collection of Robert Eisenstadt

We welcome you to take part in Ante Up, the auction of the Robert Eisenstadt's incredible collection. The auction takes place on January 30, 2021 at 10:00AM CT. You can visit the auction website by clicking here.

You can also view the collection that is up for auction as a PDF.

If you have any questions about the auction, please contact Joseph Slabaugh (joeslabaugh@potterauctions.com, 773-472-1442) at Potter & Potter Auctions.
IN MEMORIAM: Robert Eisenstadt 1942 - 2020

On June 5, 2020, Robert Eisenstadt died peacefully at home, in the loving presence of his sister Nancy and his sister's family. He will be dearly missed by all of us who loved and appreciated him. If you would like to leave a story about Robert, write a message, or read what others have written, please click here.

He took pride in his collection and loved sharing it with fellow enthusiasts; please have a look and enjoy.
Home Page: ordering info.,policies (satisfaction guaranteed, etc.), e-mail, etc.
Site Map
Robert Eisenstadt's
Antique Gambling Chips & Gambling Memorabilia Web Site
TERRIFIC MOTHER OF PEARL SET
This set was made in France. The inside top liner of the original box says "Briotet, Caro Sucr [successor] Fabricant [mfgr.], Paris," and "LeBolt and Cy, made in France." (Caro and Briotet were famous names in European gambling product manufacturing and sales.)
I think the original set held 400 pieces. My set has 319 pieces. Note that the pieces are quite large. The "5" and the "10" pieces are over 1-3/4 inches, and the "25" is just shy of 2 inches. Excellent condition.
I am grateful to Morris Engel, who sold me this set in 1996. He had co-directed/written/produced the award winning classic movie, "The Little Fugitive" (1953).
The pieces are:
"1" -- white -- 58 pieces -- 1-5/16."
"2" -- pink -- 93 pieces -- 1-5/16."
"5" -- blue -- 82 pieces -- 1-13/16."
"10" -- blue (why the same color and size as the "5"?) -- 44 pieces -- 1-13/16."
"25" -- yellow -- 42 pieces -- 2."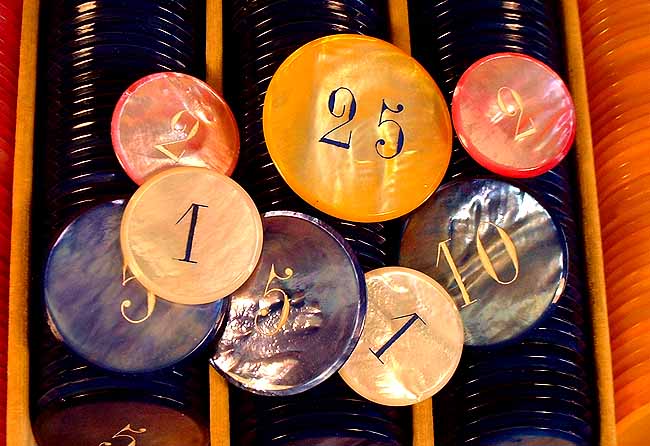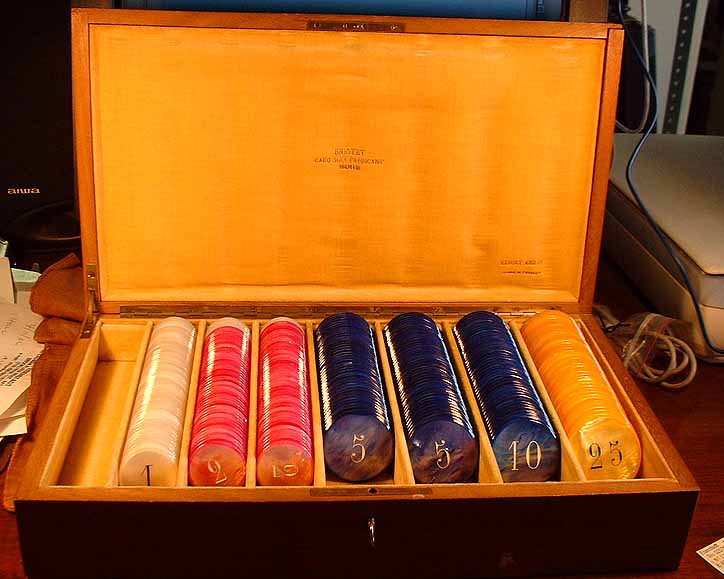 Home Page: ordering info.,policies (satisfaction guaranteed, etc.), e-mail, etc.
Site Map