ANTE UP: The Collection of Robert Eisenstadt

We welcome you to take part in Ante Up, the auction of the Robert Eisenstadt's incredible collection. The auction takes place on January 30, 2021 at 10:00AM CT. You can visit the auction website by clicking here.

You can also view the collection that is up for auction as a PDF.

If you have any questions about the auction, please contact Joseph Slabaugh (joeslabaugh@potterauctions.com, 773-472-1442) at Potter & Potter Auctions.
IN MEMORIAM: Robert Eisenstadt 1942 - 2020

On June 5, 2020, Robert Eisenstadt died peacefully at home, in the loving presence of his sister Nancy and his sister's family. He will be dearly missed by all of us who loved and appreciated him. If you would like to leave a story about Robert, write a message, or read what others have written, please click here.

He took pride in his collection and loved sharing it with fellow enthusiasts; please have a look and enjoy.
Robert Eisenstadt's
Antique Gambling Chips & Gambling Memorabilia Web Site
Home Page: ordering info.,policies (satisfaction guaranteed, etc.), e-mail, etc.
Site Map

GAMBLING IMAGES USED ON CONSUMER PRODUCTS
(some of the things I collect; not for sale)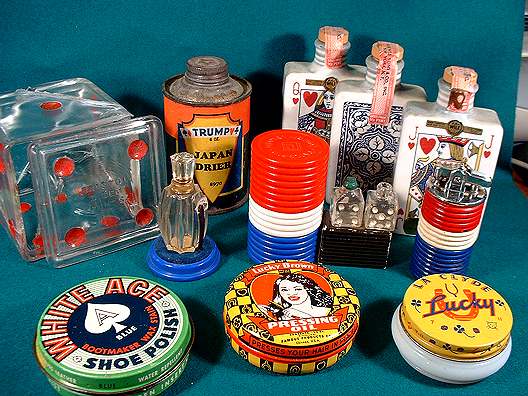 I like to collect old commercial branded products with gambling-related advertising and names. The items pictured above are described in the text below.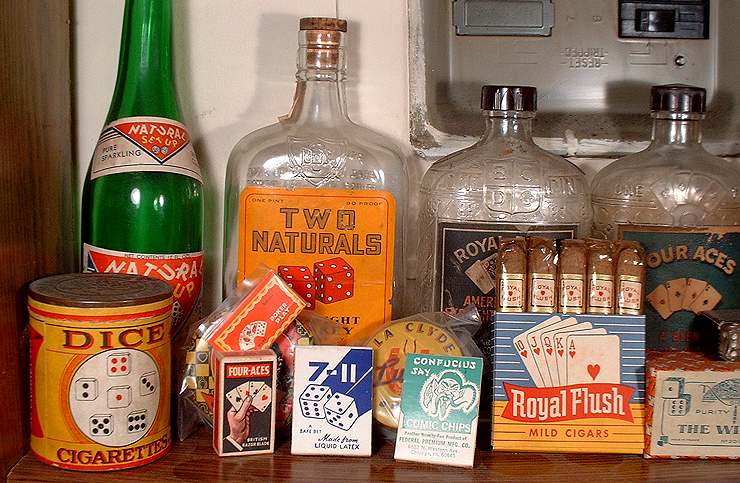 Going clockwise from the upper left are:
¶ "Natural Setup" carbonated sparkling soda water -- a dice natural showing: 11 total (5 and 6).
¶ 3 whiskey bottles: "Two Naturals," "Royal Flush," and "Four Aces" brand.
¶ Tissery Paris Purity Soap. Inside the box are two soap cubes carved like dice.
¶ Royal Flush Mild cigars -- no mfg. name.
¶ Confucius Say comic poker chip, "another novelty-fun product of Federal Premium Mfg. Co.,.... ...... Chicago ILL 60645."
¶ La Clyde Lucky deodorant cream, adorned with many good luck symbols -- wishbone, horseshoe, 4-leaf clover, 7-11 dice, and a cat face with whiskers (latter is new to me). Shown in top photo too.
¶ "7-11" condoms -- "a safe bet -- Made from Liquid Latex."
¶ Four-Aces razor blades (British).
¶ Lucky Brown Pressing Oil. Many good luck symbols. To be applied with a hot comb. I think it was aimed at black people for hair straightening(?). Shown in top photo too.
¶ Dice Cigarettes (50 cigarettes; manufactured by the British-American Tobacco Co., Ltd.).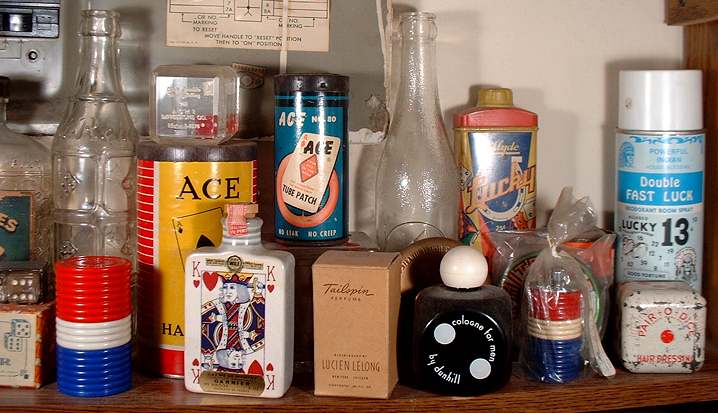 Clockwise from the upper left:
¶ Hi-Roller soda. Bottom says W. F. Tyndall, Registered June 21-28.
¶ Ace Hand Soap.
¶ dice advertising premium/paperweight from Ace Impressions Co.
¶ Ace no. 80 tube patch kit ("Your Ace in the Hole," Ace Rubber Co., Dallas, Texas).
¶ under the "Ace" tube patch kit is a glass die for Bristol Diced Mints. (Can't see it in this picture, though, but it is shown in the top picture.)
¶ 4 Dice Beverages bottle.
¶ La Clyde Lucky Talcum Powder, made in Memphis Tenn.
¶ Trump Japan Drier. Card suit symbols. You mix it with paints to hasten drying. (Can't see it too well in this picture, but is shown in top picture.)
¶ Double Fast Luck deodorant room spray.
¶ Pair-O-Dice hair dressing, Tampa Florida.
¶ Ronson cigarette lighter, made to look like a stack of poker chips! Seen in top photo too.
¶ White Ace shoe polish (hard to see here, but shown in top picture).
¶ Dunhill Cologne for Men.
¶ Tailspin by Lucien Lelong perfume. Plastic outer package is shaped like a poker chip stack. (That stack is at the lower left in the picture above. Both the perfume and the poker-chip-stack packaging is shown in the top picture.)
¶ Garnier creme de menthe bottle in shape of a King playing card (not shown, but the back of the bottle has the design of the playing card back; seen in top picture).
¶ Javar Double-Six novelty perfume set, Mohegan Lake NY. See that small six-spot die at the far left? It is a small, glass perfume bottle. Also shown in the top picture.


Old embossed KENO Soda Bottle. Bottle has Keno balls with numbers embossed on them. I have refilled the bottle and capped it with an old vintage Pineapple Soda cap for better display. The bottle is 11-1/2" tall. Embossed on the bottom: "Royal Products Inc., contents 24 fl. oz., New Orleans, La."

Home Page: ordering info.,policies (satisfaction guaranteed, etc.), e-mail, etc.
Site Map