Robert Eisenstadt's
Antique Gambling Chips & Gambling Memorabilia Web Site
Home Page: ordering info.,policies (satisfaction guaranteed, etc.), e-mail, etc.
Site Map

GAMBLING IMAGES USED ON CONSUMER PRODUCTS
(some of the things I collect; not for sale)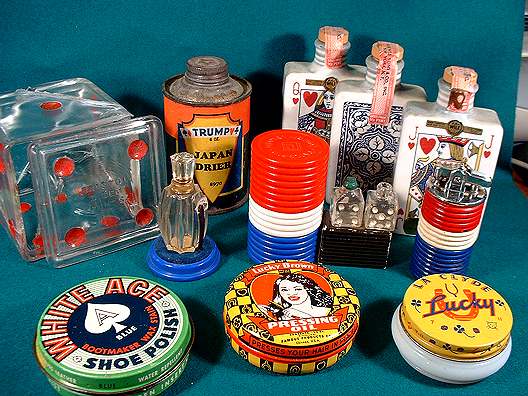 I like to collect old commercial branded products with gambling-related advertising and names. The items pictured above are described in the text below.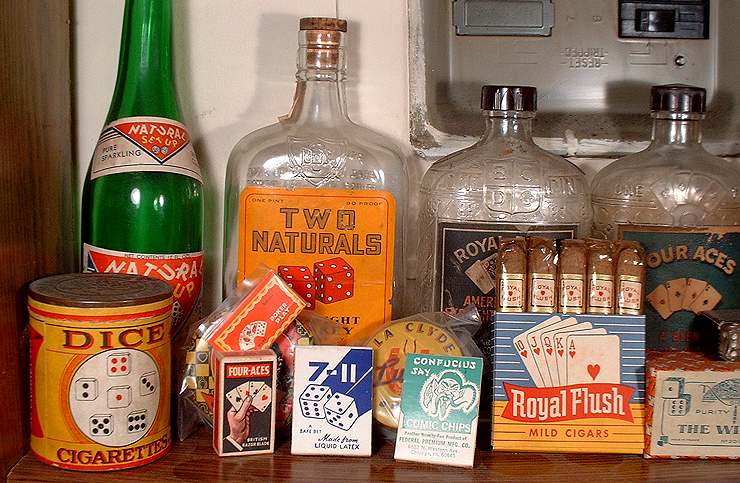 Going clockwise from the upper left are:
¶ "Natural Setup" carbonated sparkling soda water -- a dice natural showing: 11 total (5 and 6).
¶ 3 whiskey bottles: "Two Naturals," "Royal Flush," and "Four Aces" brand.
¶ Tissery Paris Purity Soap. Inside the box are two soap cubes carved like dice.
¶ Royal Flush Mild cigars -- no mfg. name.
¶ Confucius Say comic poker chip, "another novelty-fun product of Federal Premium Mfg. Co.,.... ...... Chicago ILL 60645."
¶ La Clyde Lucky deodorant cream, adorned with many good luck symbols -- wishbone, horseshoe, 4-leaf clover, 7-11 dice, and a cat face with whiskers (latter is new to me). Shown in top photo too.
¶ "7-11" condoms -- "a safe bet -- Made from Liquid Latex."
¶ Four-Aces razor blades (British).
¶ Lucky Brown Pressing Oil. Many good luck symbols. To be applied with a hot comb. I think it was aimed at black people for hair straightening(?). Shown in top photo too.
¶ Dice Cigarettes (50 cigarettes; manufactured by the British-American Tobacco Co., Ltd.).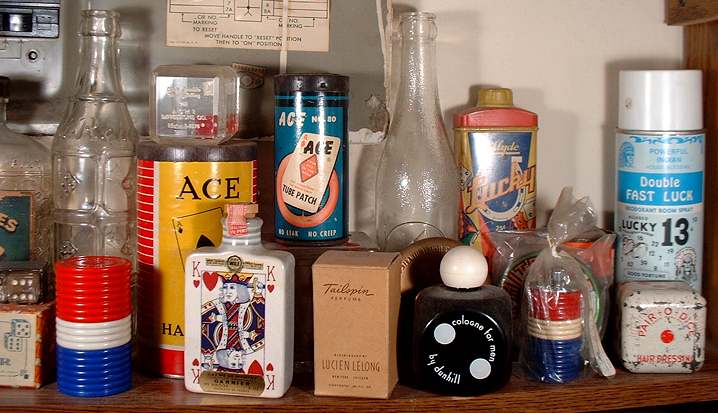 Clockwise from the upper left:
¶ Hi-Roller soda. Bottom says W. F. Tyndall, Registered June 21-28.
¶ Ace Hand Soap.
¶ dice advertising premium/paperweight from Ace Impressions Co.
¶ Ace no. 80 tube patch kit ("Your Ace in the Hole," Ace Rubber Co., Dallas, Texas).
¶ under the "Ace" tube patch kit is a glass die for Bristol Diced Mints. (Can't see it in this picture, though, but it is shown in the top picture.)
¶ 4 Dice Beverages bottle.
¶ La Clyde Lucky Talcum Powder, made in Memphis Tenn.
¶ Trump Japan Drier. Card suit symbols. You mix it with paints to hasten drying. (Can't see it too well in this picture, but is shown in top picture.)
¶ Double Fast Luck deodorant room spray.
¶ Pair-O-Dice hair dressing, Tampa Florida.
¶ Ronson cigarette lighter, made to look like a stack of poker chips! Seen in top photo too.
¶ White Ace shoe polish (hard to see here, but shown in top picture).
¶ Dunhill Cologne for Men.
¶ Tailspin by Lucien Lelong perfume. Plastic outer package is shaped like a poker chip stack. (That stack is at the lower left in the picture above. Both the perfume and the poker-chip-stack packaging is shown in the top picture.)
¶ Garnier creme de menthe bottle in shape of a King playing card (not shown, but the back of the bottle has the design of the playing card back; seen in top picture).
¶ Javar Double-Six novelty perfume set, Mohegan Lake NY. See that small six-spot die at the far left? It is a small, glass perfume bottle. Also shown in the top picture.


Old embossed KENO Soda Bottle. Bottle has Keno balls with numbers embossed on them. I have refilled the bottle and capped it with an old vintage Pineapple Soda cap for better display. The bottle is 11-1/2" tall. Embossed on the bottom: "Royal Products Inc., contents 24 fl. oz., New Orleans, La."

Home Page: ordering info.,policies (satisfaction guaranteed, etc.), e-mail, etc.
Site Map