ANTE UP: The Collection of Robert Eisenstadt

We welcome you to take part in Ante Up, the auction of the Robert Eisenstadt's incredible collection. The auction takes place on January 30, 2021 at 10:00AM CT. You can visit the auction website by clicking here.

You can also view the collection that is up for auction as a PDF.

If you have any questions about the auction, please contact Joseph Slabaugh (joeslabaugh@potterauctions.com, 773-472-1442) at Potter & Potter Auctions.
IN MEMORIAM: Robert Eisenstadt 1942 - 2020

On June 5, 2020, Robert Eisenstadt died peacefully at home, in the loving presence of his sister Nancy and his sister's family. He will be dearly missed by all of us who loved and appreciated him. If you would like to leave a story about Robert, write a message, or read what others have written, please click here.

He took pride in his collection and loved sharing it with fellow enthusiasts; please have a look and enjoy.
Robert Eisenstadt's
Antique Gambling Chips & Gambling Memorabilia Web Site
Home Page: ordering info.,policies (satisfaction guaranteed, etc.), e-mail, etc.
Site Map

Roy Rogers autographed still from his movie "Apache Rose" where Roy is showing poker chip to victim of gambling ring.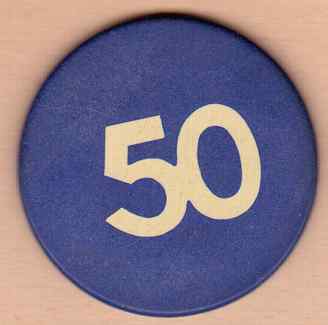 This is the casino poker chip Roy is holding in the still. I own the still, paid about $55 for it in auction, June 2010.
Gambling-related movie, "Apache Rose" (1947): "Roy Rogers' first color western features the singing cowboy as an oil wildcatter trying to obtain the rights to an old Spanish land grant. Gamblers headquartered on a casino ship offshore ("Casino Del Mar" aka "S.S. Casino") conspire to get the land first. Evans, playing a kind of Tugboat Annie of the West, sprightly sings "There's Nothin' Like Coffee in the Morning." Roy croons the title song and "Ride, Vaquero," and is particularly good on "Wishing Well." The Sons of the Pioneers do a fine rendition of "Jose." " ("R52" on the still means the still is from 1952, the year the movie was re-released in movie theaters.)

From IMDb user review: "Dale Evans is on hand as Billie Colby, the owner of a tugboat, the "Apache Rose". Just like her character in "Bells of San Angelo", she and Roy start out at odds with each other, but eventually team up together to bring down a villainous plot to seize the oil rights from rancher Carlos Vega (Russ Vincent). The lead bad guy is Reed Calhoun (George Meeker), owner of a casino boat who's maneuvered Vega into running up a large gambling debt so he can get his hands on Vega's oil rights."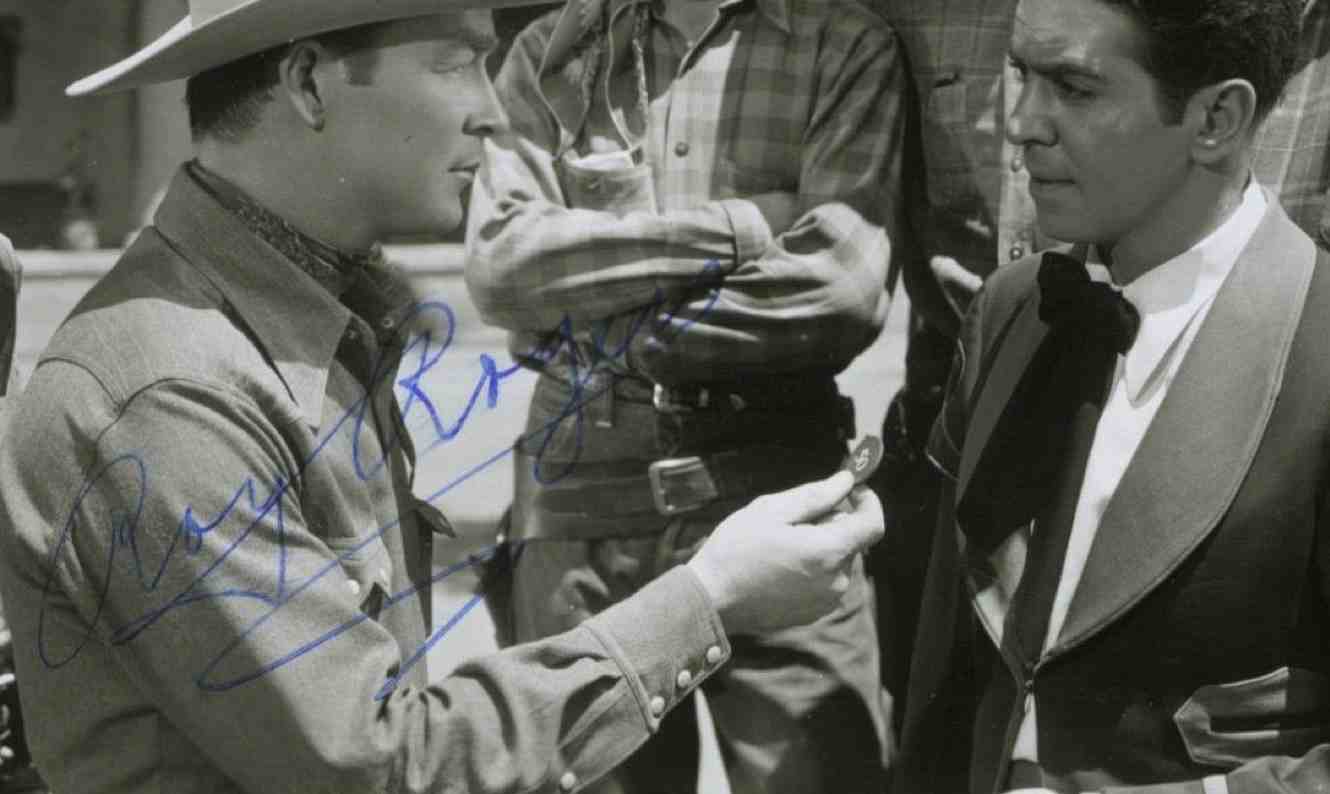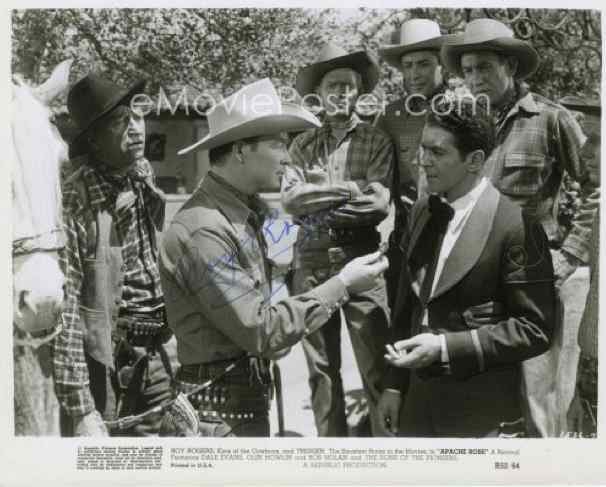 The same scene is the basis of this lobby card for the movie. Unfortunately, I don't own the lobby card. This lobby card and another went for $76 in a 2008 auction.



Home Page: ordering info.,policies (satisfaction guaranteed, etc.), e-mail, etc.
© 2010 by Robert Eisenstadt
all rights reserved