ANTE UP: The Collection of Robert Eisenstadt

We welcome you to take part in Ante Up, the auction of the Robert Eisenstadt's incredible collection. The auction takes place on January 30, 2021 at 10:00AM CT. You can visit the auction website by clicking here.

You can also view the collection that is up for auction as a PDF.

If you have any questions about the auction, please contact Joseph Slabaugh (joeslabaugh@potterauctions.com, 773-472-1442) at Potter & Potter Auctions.
IN MEMORIAM: Robert Eisenstadt 1942 - 2020

On June 5, 2020, Robert Eisenstadt died peacefully at home, in the loving presence of his sister Nancy and his sister's family. He will be dearly missed by all of us who loved and appreciated him. If you would like to leave a story about Robert, write a message, or read what others have written, please click here.

He took pride in his collection and loved sharing it with fellow enthusiasts; please have a look and enjoy.
Robert Eisenstadt's
Antique Gambling Chips & Gambling Memorabilia Web Site
Home Page: ordering info.,policies (satisfaction guaranteed, etc.), e-mail, etc.
Site Map

BORLAND PUSSY-CAT-A-GO-GO casino, Las Vegas, $5000 poker chip -- COMMEMORATIVE POKER CHIP (item 104)

$5.00, POSTPAID

Sorry, sold out!


Bill Borland had made a series of some 84 commemorative, fantasy, casino-quality poker chips about 15 years ago to celebrate 10 Las Vegas casinos. They are clay composition, inlaid chips made on the Nevada-Nevada rim mold. Today the chips are obsolete and highly collectible. I am making a market in these chips. Click here to view all 84 chips and my sales list for some 50 of them. I am offering one of them here --the $5000 Pussy-Cat-A-Go-Go chip, in excellent condition-- for $5.00 postpaid as a special offer. For payment methods and my address, click the Home Page link above. (We also buy Borland and most other chips.)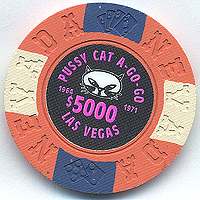 Home Page: ordering info.,policies (satisfaction guaranteed, etc.), e-mail, etc.
Site Map