Robert Eisenstadt's
Antique Gambling Chips & Gambling Memorabilia Web Site
Home Page: ordering info.,policies (satisfaction guaranteed, etc.), e-mail, etc.
Site Map

BORLAND PUSSY-CAT-A-GO-GO casino, Las Vegas, $5000 poker chip -- COMMEMORATIVE POKER CHIP (item 104)

$5.00, POSTPAID

Sorry, sold out!


Bill Borland had made a series of some 84 commemorative, fantasy, casino-quality poker chips about 15 years ago to celebrate 10 Las Vegas casinos. They are clay composition, inlaid chips made on the Nevada-Nevada rim mold. Today the chips are obsolete and highly collectible. I am making a market in these chips. Click here to view all 84 chips and my sales list for some 50 of them. I am offering one of them here --the $5000 Pussy-Cat-A-Go-Go chip, in excellent condition-- for $5.00 postpaid as a special offer. For payment methods and my address, click the Home Page link above. (We also buy Borland and most other chips.)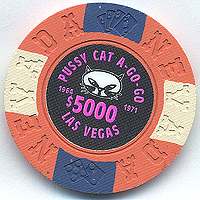 Home Page: ordering info.,policies (satisfaction guaranteed, etc.), e-mail, etc.
Site Map