ANTE UP: The Collection of Robert Eisenstadt

We welcome you to take part in Ante Up, the auction of the Robert Eisenstadt's incredible collection. The auction takes place on January 30, 2021 at 10:00AM CT. You can visit the auction website by clicking here.

You can also view the collection that is up for auction as a PDF.

If you have any questions about the auction, please contact Joseph Slabaugh (joeslabaugh@potterauctions.com, 773-472-1442) at Potter & Potter Auctions.
IN MEMORIAM: Robert Eisenstadt 1942 - 2020

On June 5, 2020, Robert Eisenstadt died peacefully at home, in the loving presence of his sister Nancy and his sister's family. He will be dearly missed by all of us who loved and appreciated him. If you would like to leave a story about Robert, write a message, or read what others have written, please click here.

He took pride in his collection and loved sharing it with fellow enthusiasts; please have a look and enjoy.
Robert Eisenstadt's
Antique Gambling Chips & Gambling Memorabilia Web Site
Home Page: ordering info.,policies (satisfaction guaranteed, etc.), e-mail, etc.
Site Map

CARTOON POKER CHIPS -- 1933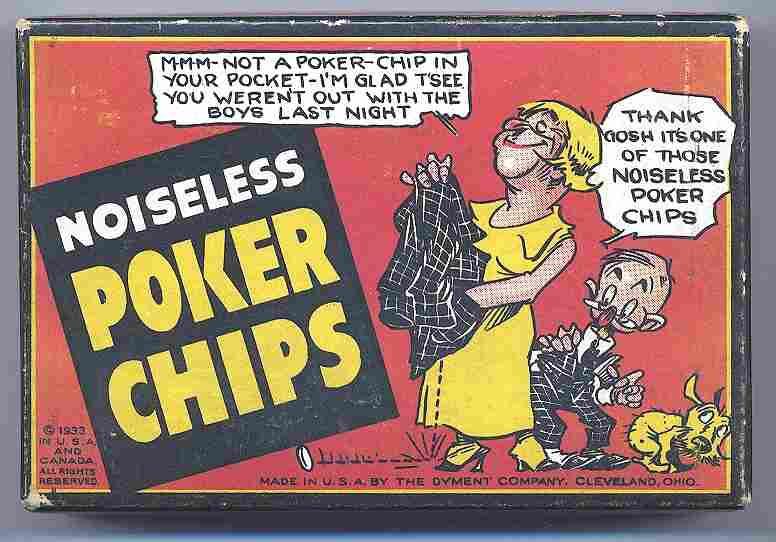 These are cartoon poker chips (pictured below). Most of the humor has to do with double meanings of poker expressions. The chips are well-made, heavy duty, thick, square-edged, pressed paper 1-1/2"poker chips. Above is a picure of the chip box. Each box contained 60 chips -- 20 red, 20 white and 20 blue. Often they came with 20 different cartoons printed on one side of each chip. Other times the same box would come with all plain chips (no cartoons). The box advertised them as "noiseless" (never described as paper) and "the most economical poker chips sold." Interesting the way the company boldly stressed their worst frature (cheap paper chips) with the cartoon on the box -- the wife is examining his jacket for poker chips. One falls out -- see the dotted line and the white chip at the bottom of the picture. The husband says to himself, "Thank gosh it's one of those noiseless poker chips." Made by The Dyment Company, Cleveland, Ohio, copyright 1933. The company is still active today in the paper products field. They have offices in Cleveland and Chicago. ..... ........ ......... There are 20 different cartoons (all pictured below). In "Antique Gambling Chips" (pp. 357-8), 16 of them are pictured. The company was careful to have 20 chips of each color in each box, but in those boxes with the cartoon chips, the particular cartoons came in a random distribution -- for example, maybe only one or no chips of some cartoons, and 4 or 5 chips of another.

FOR SALE -- I just picked up a second set -- in the original box, 61 chips (one extra one). There are 2 or 3 duplications -- otherwise you are getting virtually a perfect matched set of 20 different red cartoon chips, 20 different blue, and 20 different white.. Box and chips are ok, very readable, though soiled some from use. Box surface paper is worn through in a few small inconspicuous places. I could email you a picture in advance. $100.00 plus postage, Return privileges,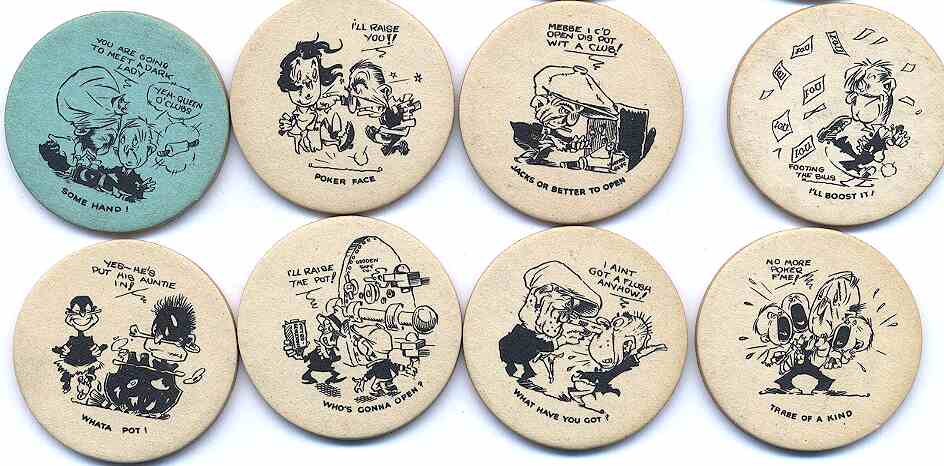 Home Page: ordering info.,policies (satisfaction guaranteed, etc.), e-mail, etc.
Site Map