ANTE UP: The Collection of Robert Eisenstadt

We welcome you to take part in Ante Up, the auction of the Robert Eisenstadt's incredible collection. The auction takes place on January 30, 2021 at 10:00AM CT. You can visit the auction website by clicking here.

You can also view the collection that is up for auction as a PDF.

If you have any questions about the auction, please contact Joseph Slabaugh (joeslabaugh@potterauctions.com, 773-472-1442) at Potter & Potter Auctions.
IN MEMORIAM: Robert Eisenstadt 1942 - 2020

On June 5, 2020, Robert Eisenstadt died peacefully at home, in the loving presence of his sister Nancy and his sister's family. He will be dearly missed by all of us who loved and appreciated him. If you would like to leave a story about Robert, write a message, or read what others have written, please click here.

He took pride in his collection and loved sharing it with fellow enthusiasts; please have a look and enjoy.
Robert Eisenstadt's
Antique Gambling Chips & Gambling Memorabilia Web Site
Home Page: ordering info.,policies (satisfaction guaranteed, etc.), e-mail, etc.
Site Map

Unusual: manufacturer put 15 different designs into box of 100 engraved, uninked poker chips

Presented here is the clever way one manufacturer sold poker chips 100 years ago, maybe with future chip collectors in mind.

I recently (March 2010) bought this neat box of chips for $35. The chips must be original to the box (picture of box is below). Everything about the chips is uniform (with one exception) -- same color shade, size, type, etc. The exception is that there are 15 different designs of chips in the box. The label says "Assorted," and that usually meant assorted colors of chips (say, red, white and blue chips). I never saw a box of chips like this before. The chips are a good 100 years old. Some of the designs are somewhat scarce, none "rare." In the old catalogs these 1-1/2" chips were called "engraved" and advertised as the most inexpensive clay chips the company sold. No off-color paint/ink was applied to the engravings to make the designs more visible, which I guess was a good thing for a poker game, as the chips would be less distracting than if the designs were more prominent.

The 15 designs, as arranged in the picture below, are:

shoe, cap & whip -- beehive -- eagle on shield -- elephant in woods

rabbit in dog's mouth -- rose -- full house (cards) -- horse head

stirrups, cap & whip -- phoenix bird -- mercury (God) -- frog and toad stool

lighthouse -- owl on branch -- swan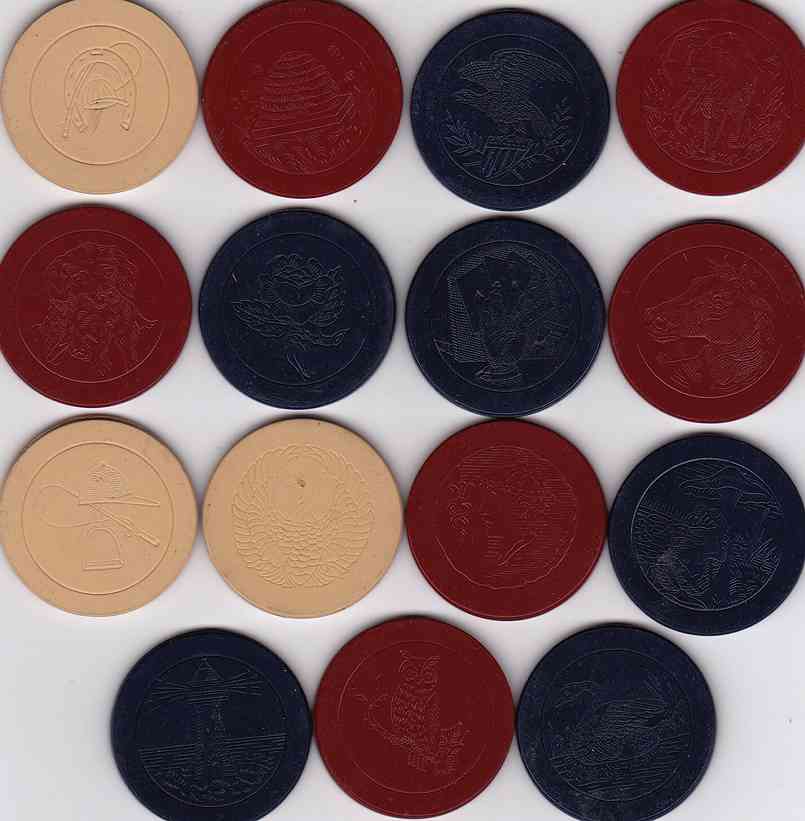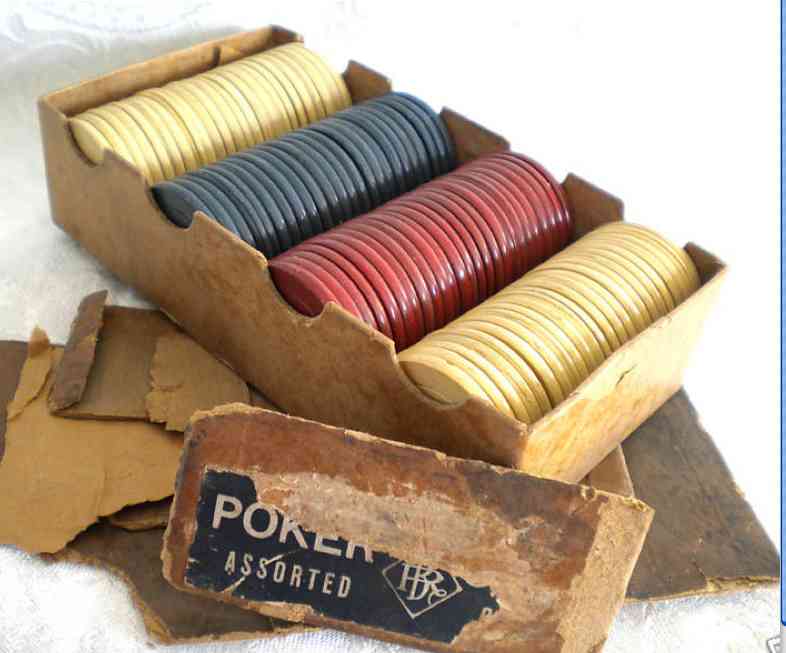 Here is how three of the chips look with paint in the engravings:




Home Page: ordering info.,policies (satisfaction guaranteed, etc.), e-mail, etc.
Site Map