Robert Eisenstadt's
Antique Gambling Chips & Gambling Memorabilia Web Site
Breakers Club, Santa Monica CA (1926-1934) (per The Gaming Table)
Can anyone give me further information on this chip? For example, was the club famous? Illegal club or just a social club? Famous or infamous owners, clientele? The USPC card says it was ordered by Montags, Los Angeles CA, May 18, 1926.
I acquired some of these recently. I only have about 5 four-color sets, and then some extra reds and blues.

The sumptuous Breakers is pictured below. It and the Edgewater and Del Mar Club
(all large structures) were next to each other on the Pacific, just south of the famous
Santa Monica Pier. The Breakers later became the Chase Hotel and then Hotel
Monica. Any further information about the Breakers Club would be appreciated.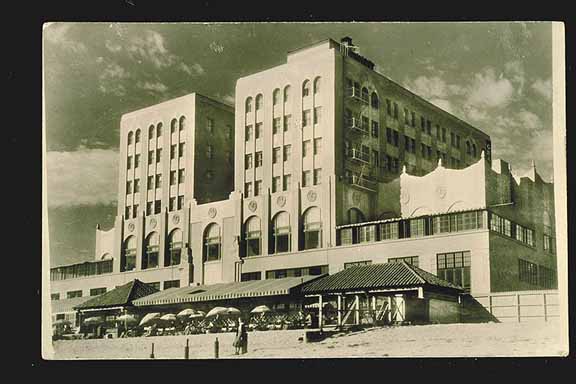 .
Best wishes,
Robert Eisenstadt, 140 Cadman Plaza West, # 26-C; Brooklyn NY 11201. (718) 625-3553. I have fax capabilities, but phone first. Email address: (removed email address). The site map of my web page is at: http://www.antiquegamblingchips.com/sitemap.htm
View my eBay feedback rating (favorable testimonials):
http://cgi2.ebay.com/aw-cgi/eBayISAPI.dll?ViewFeedback&userid=poker-chip-man
GAMBLING CHIPS AND ITEMS WANTED. I BUY gambling chips (casino, ivory, pearl, poker, etc.), small gambling equipment, old playing card decks and other old gambling items/images/paper. All items, except casino chips and catalogs, should be prior to 1945....... ... I do not want: gambling toys; plastic, paper or plain chips; metal slot tokens; current or recent casino chips; or heavy/bulky items like slot machines......Always looking for new collectors and trades............ I pay commissions for good leads...........Thank you.
********************************************************************